ALL-STAR NEXEN TEAM TAKES TO THE "STREETS OF LONG BEACH" TO KICK OFF FORMULA DRIFT 2018 SEASON
Interviews Available With All-New 2018 Nexen Roster:Three-Time Championship Winner Chris Forsberg, 2015 Champion Fredric Aasbo and Prominent Drivers Ryan Tuerck, Alec Hohnadell and Jhonnattan Castro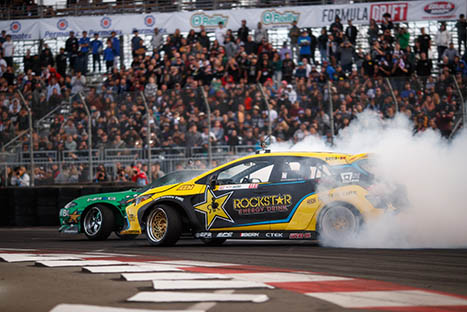 2015 champion and 2017 second overall driver Fredric Aasbo
WHAT: Global tire manufacturer and motorsports powerhouse Nexen Motorsports USA is kicking off the 2018 Formula DRIFT season this Friday, April 6 and Saturday, April 7 at Formula DRIFT Round 1: Streets of Long Beach. The 2018 Nexen Tire team is the most experienced group of drivers to wear the Nexen Tire badge – lead by three-time DRIFT champion, Chris Forsberg.
2015 champion and 2017 second overall driver Fredric Aasbo is smashing into the season with the all-new Rockstar Energy / Nexen Tire Toyota Corolla Hatchback and plenty of momentum
Prominent drivers Alec Hohnadell and Jhonnattan Castro are returning to the track for a shot at this years' championship
15-year Formula DRIFT veteran Kyle Mohan puts a 16th race season under his belt
New Nexen driver Ryan Tuerck is looking to make his mark felt on the track
Dan Burkett and Josh Robinson round out the all-star team
All drivers rely on Nexen's SUR4G tires – engineered with proprietary technology for superior grip, handling and weather performance
All drivers will be available for interviews onsite both before and after the races
Spectators can enter the gates beginning at 11:00 a.m. PST on Friday, April 6. The qualifying round begins at 1:15 p.m., and the main competition will commence on Saturday, April 7 at 3:30 p.m. PST. Nexen Tire USA will be onsite in a brand experience tent where fans can meet the famous Nexen models and get autographs.
WHERE: Long Beach Arena, Long Beach, Calif.
WHEN: Friday, April 6 – Saturday, April 7