NEW NEXEN TIRE MOBILE APP DESIGNED FOR NEXT LEVEL DEALERS PROVIDES ENHANCED CRM AND SALES TOOLS
New mobile app allows dealers to easily manage sales cycle from start to finish
Locator feature on consumer side of app connects customers with nearest dealers and allows consumers to request an appointment
Nexen is committed to providing more support by bringing consumers directly to nearby dealers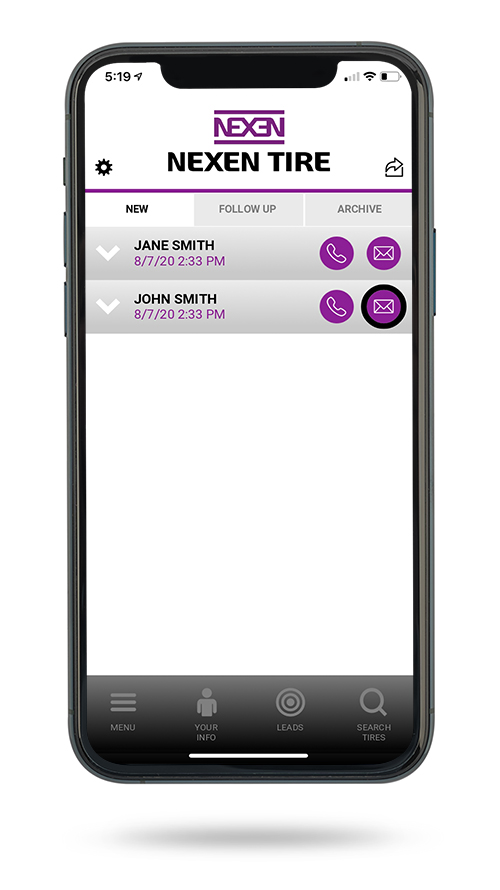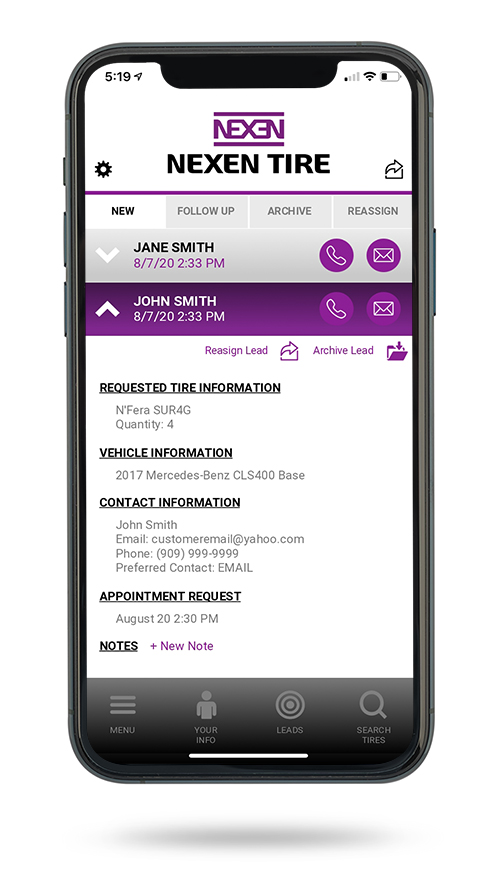 DIAMOND BAR, Calif., (Sept. 9, 2020) — Nexen Tire America, a worldwide leader in high-performance, passenger, SUV/light truck and winter tire technology, today announced the launch of an all-new mobile app designed specifically to provide added support to Nexen Tire's nationwide network of dealers. The app is designed to help generate consumer leads, present Nexen Tire products in a user-friendly interface, streamline customer communications and simplify the sales process from start to finish. The all-new app has a specific lead-generation tool which helps associate-level dealers connect with consumers in the market currently looking for tires. Available on Apple and Android mobile devices, the app also contains a consumer face that gives customers several tools to select tires, find their closest Nexen Tire dealer and request an appointment to have new tires installed. Appointment requests made through the app are sent directly to the nearest Nexen Tire dealer of their choosing, allowing the retailer to quickly follow up with customers and begin a high-quality customer service experience that helps increase sales opportunities.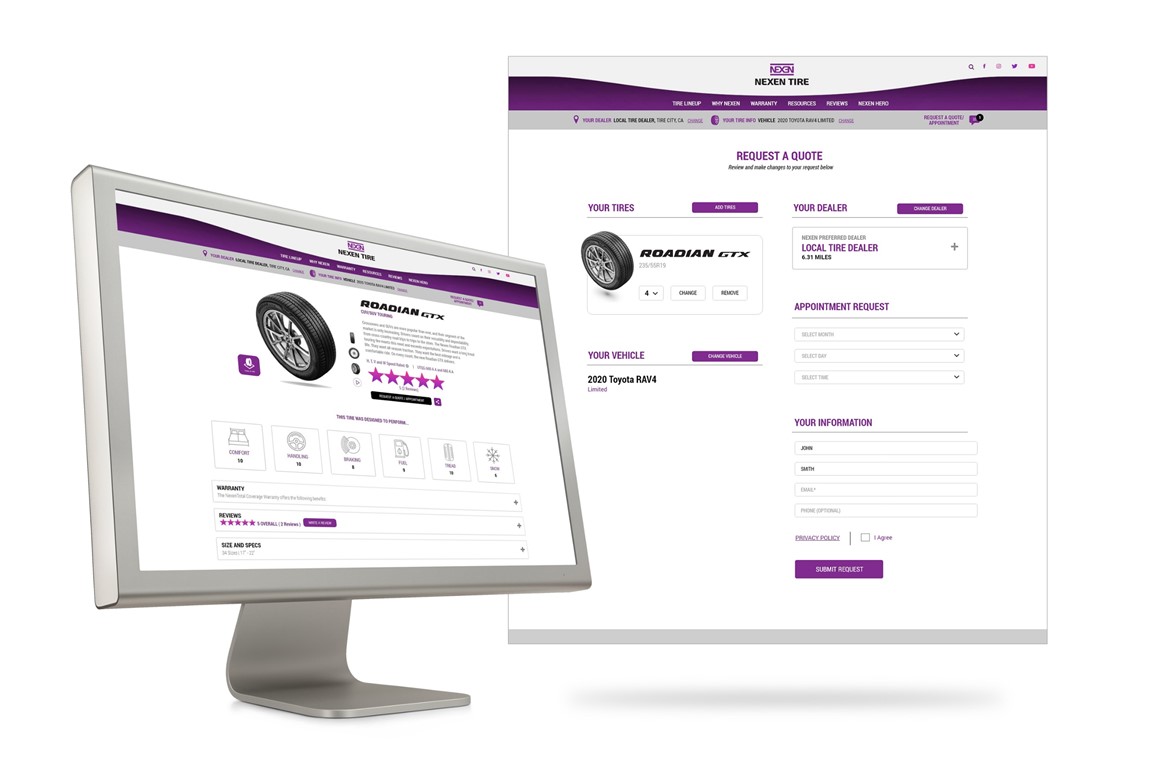 Consumers who use the locator and appointment request feature on Nexen Tire's website are also able to request quotes that will funnel through the Nexen Tire app, signaling an instant notification for dealers with the consumer's contact information. Nexen Tire is fully prepared to support their dealers every step of the way, aiding in training of the new app, ensuring the dealer is confident in this new sales tool and doesn't miss an opportunity to make a new sale.
Nexen Tire App – High-powered, Feature-rich Sales Tool
Developed exclusively for Nexen Tire Next Level dealers to capture more tire sales and vehicle repair business
User-friendly navigation and access to complete line of Nexen Tire products
Single source of information on Nexen Tire products
Ability to share tire information through email
Easy-to-use lead management system for all Next Level Dealers
Hot leads delivered instantly through the app's lead management system
Consistent support from Nexen Tire representatives
Customers can reach dealers through app or Nexen Tire's website

Training videos available for dealers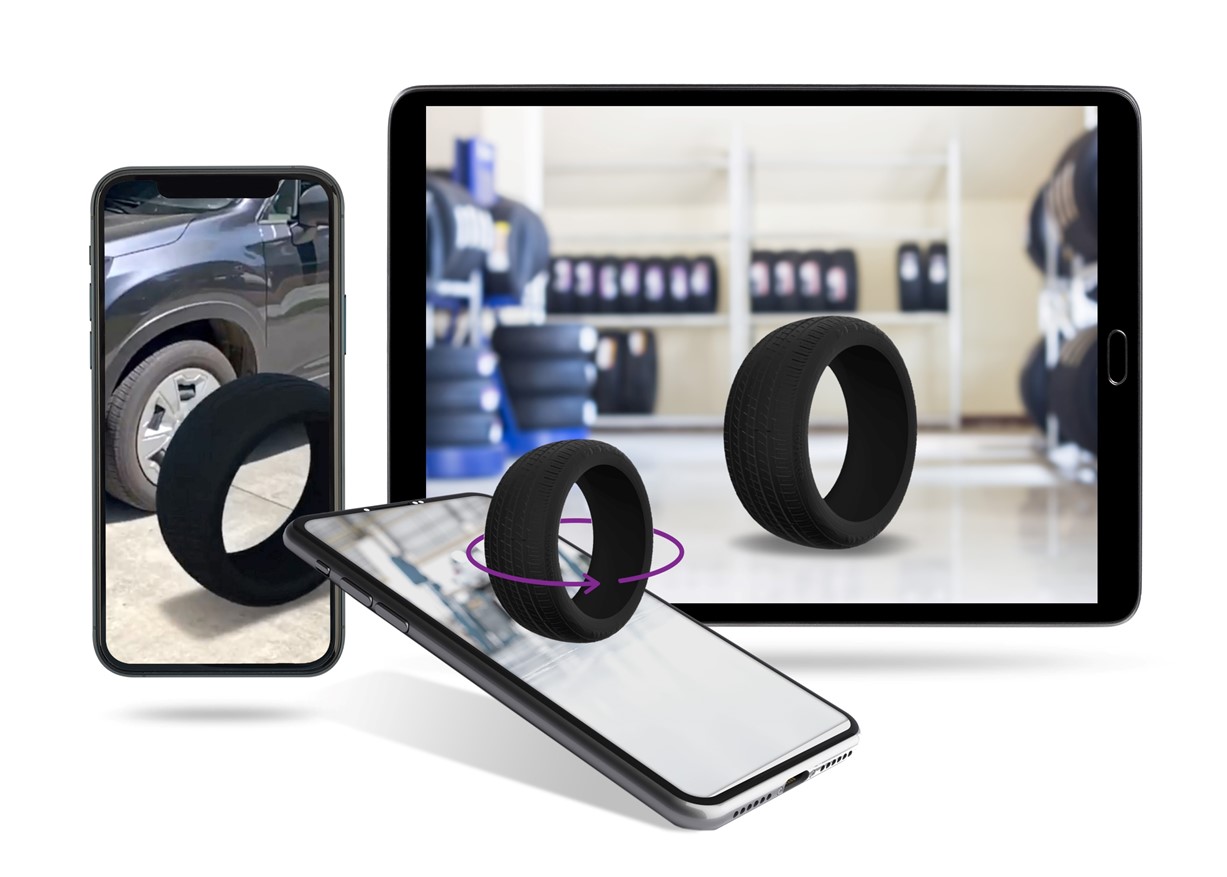 The consumer side of the all-new mobile app makes finding the right tires easier than ever. The app allows customers to easily navigate through Nexen Tire's complete tire line-up using new search features. The app also features an interactive augmented reality (AR) function allowing consumers to visualize in real-time how a new set of Nexen tires will look on their vehicle. Nexen Tire's new app integrates its existing Dealer Locator search function, which allows users to request more information or request an appointment at their nearest Nexen Tire dealer.
Enhanced Mobile Shopping Experience for Consumers
Easy navigation through Nexen Tire's products
Simplified tire finder lets consumers search by vehicle application, tire size or even VIN

Updated tire-search utilizes a VIN scanner for precise tire application search.

Augmented reality (AR) adds an interactive experience which allows the user to take any Nexen tire and place into a real-world environment.
Detailed information on all Nexen tires, including available sizes, speed rating, treadwear rating, weight ratings and more
Interactive experience creates a modern shopping experience customizable to the user's specific needs
Quick and easy appointment requests at nearest preferred Nexen Tire dealer location
Easy connection to register tires, connect with warranty, social media and more!
"Our nationwide network of Next Level dealers are the backbone of this company, and by developing this app, we are showing our continued commitment to giving them the tools they need to quickly connect with customers and increase their ability to provide the highest level of customer service," said John Hagan, executive vice president of sales for Nexen Tire America, Inc. "We worked extremely hard to pack this app full of features for dealers and consumers, making it easier than ever for customers to find the right tires and connect with their nearest Nexen Tire dealers. We are confident this will make it easier for dealers to manage customer service relationships, build lasting relationships with their customers and increase sales."
The new Nexen Tire app is available to both Android and iPhone users and can be downloaded through the iTunes and Google Play app stores.
Visit the company's Dealer Finder to experience new features, find the nearest Nexen Tire dealer or request an appointment.
For more information on how to become a Nexen Tire Next Level dealer, how the app works and more, please contact media@nexentireusa.com or call (310) 374-6177.
About Nexen Tire:
Inspired by Nexen's global family of drivers to engineer superior performing tires – from championship-winning Formula DRIFT drivers, rock-climbing off-road enthusiasts to everyday commuters – Nexen Tire utilizes proprietary technology and the highest quality standards in the industry to guarantee world-class products backed by unrivaled customer support for the life of each tire. As a worldwide leader in high-performance, passenger, CUV/SUV/light truck and winter offerings, the company is second-to-none in research, development and state-of-the-art manufacturing. And as part of a select group of tire manufacturers worldwide that are specified as standard fitment on original equipment vehicles, Nexen delivers premium products at a sensible price.
Find out more about how Nexen Tire has your back:
#NexenHero #NexenTire #WeGotYou #NexenRacing