NEXEN TEAM UP WITH MANCHESTER CITY FOOTBALL CLUB'S CITYZENS GIVING PROGRAM, TO PROMOTE HEALTHY LIVING TO YOUNGSTERS IN LA
-- Nexen Tire Committed to Promoting Happiness, Health and Prosperity During the Holidays by Giving Back to Families in Need and Educating Youth --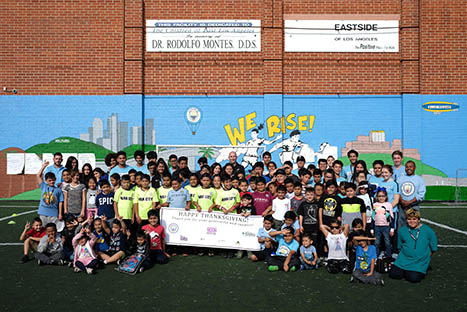 DIAMOND BAR, Calif., (Nov. 28, 2018) – Nexen Tire America, Inc., a worldwide leader in high-performance, passenger, SUV / light truck and winter tire technology, partnered with Manchester City Football Club's global community initiative, Cityzens Giving, to promote the importance of healthy living to youngsters across the city through the power of football.
Although Los Angeles is a city with a passion for healthy living, thirty percent of young people are classed as overweight or obese and, as a consequence, are more likely to develop non-communicable diseases like diabetes at a young age. Nexen Tire has teamed up with Manchester City to support the Cityzens Giving Healthy Goals program. Over the Thanksgiving holiday, Manchester City community coaches spent four days delivering training to 16 Young Leaders on a pitch first donated to East LA Rising by Manchester City and the UAE Embassy in 2011.
Using classroom and on-the-pitch workshops, the Young Leaders developed their leadership and life skills, practical planning and an understanding of how to use football as a tool to educate local youngsters on the benefits of exercise and nutrition and to promote healthy lifestyle choices.
The four-day training culminated in the Young Leaders putting their newly developed skills into action by planning and delivering a Thanksgiving football festival for up to 100 children from the local community on the final day.
Nexen Tire also generously donated 60 turkeys which were gifted to families in need from the local area.
Kyle Roberts, Senior Director of Marketing for Nexen Tire, said;
"We are incredibly proud to be an official supporter of the Cityzens Giving Healthy Goals program. We can see its impact on young people and families in Los Angeles, and it's an honor to be making a difference to the lives of these amazing individuals,"
"One of Nexen Tire's highest priorities is to become more involved in local communities. We're extremely grateful to be able to give back, and we truly enjoy being a part of this fantastic community we are fortunate enough to call our home."
Tom Pitchon, Director of City Football Foundation, added;
"We are extremely proud that our community footprint continues to grow and develop every year both in Manchester and across the globe. Events like this epitomize how football can be used to tackle a range of social issues and bring young people together.
"We are delighted to be working with Nexen Tire to help support our Young Leaders in LA and give them the opportunity to share their experiences and knowledge with their local community."
Nexen Tire's continued generous support and participation in the program helps to further the work of the Cityzens Giving Healthy Goals program which was successfully launched in 2017. To date the program has helped to train 30 Young Leaders who have in turn positively impacted the lives of 195 young people in LA using the universal language of football.
About Manchester City Football Club:
Manchester City FC is an English Premier League club initially founded in 1880 as St Mark's West Gorton. It officially became Manchester City FC in 1894 and has since then gone onto win the European Cup Winners' Cup, five League Championship titles, including three Premier League titles (2012, 2014, 2018), and five FA Cups. Manchester City FC is one of eight teams comprising the City Football Group and counts New York City FC and Melbourne City FC among its sister clubs.
Under manager Pep Guardiola, one of the most highly decorated managers in world football, the Club plays its domestic and UEFA Champions League home fixtures at the Etihad Stadium, a spectacular 55,000 seat arena that City have called home since 2003. Today, the Stadium sits on the wider Etihad Campus, which also encompasses the City Football Academy, a state-of-the-art performance training and youth development facility located in the heart of East Manchester. Featuring a 7,000 capacity Academy Stadium, the City Football Academy is also where Manchester City Women's Football Club and the Elite Development Squad train on a daily basis and play their competitive home games.
For more information, please visit www.mancity.com