Nexen Tire Adds New Volkswagen Passat to Original Equipment Portfolio in North America
New Passat equipped with Nexen Tire's N'FERA AU7 premium tire
UHP tire with significant improvements offers a premium ride experience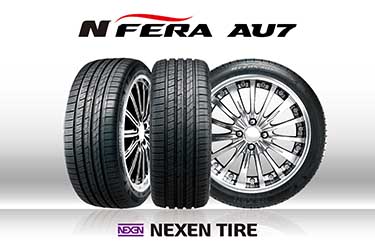 (SEOUL, South Korea, March 10, 2020) – Nexen Tire, a global tire manufacturer, announced that it is supplying the N'FERA AU7 in size 215/60R16 95T for the Canadian market and 215/55R17 94H for the United States market on the new Volkswagen Passat as original equipment (OE).
Volkswagen's Passat is the world's first midsize car to sell over 30 million units. This midsize sedan is a dynamic vehicle that is known for its high quality and performance with a wide and spacious interior plus an available advanced driver-assistance system.
The N'FERA AU7 is an all season, premium ultra-high performance (UHP) tire developed for luxury sedans, with significantly improved wear capabilities and braking performance on wet surfaces. It provides reliable performance in diverse weather and road conditions across North America and fulfills U.S. standards on wet grip and braking. The tire offers a premium driving experience by applying enhanced design standards for noise and vibration.
The N'FERA AU7 also received numerous prestigious awards including the If Design Award and the Red Dot Award from Germany, as well as the IDEA Design Award from the United States, in recognition for its performance and design.
Nexen Tire operates four major global R&D and production networks – newly renovated and expanded R&D centers in Europe and the U.S., the recently opened 'NEXEN univerCITY', the company's central research institute, in Seoul, Korea in 2019, and the recent launch of its European manufacturing plant. Through these establishments, Nexen Tire will continue to gain a competitive edge by increasing production capacity, bringing superior quality and expanding sales in the global market.
###
About Nexen Tire
Nexen Tire, established in 1942, is a global tire manufacturer headquartered in South Korea. Nexen Tire, one of the world's fastest growing tire manufacturers, currently interacts with approximately 150 countries around the world (as of August 2019) and owns four manufacturing plants – two in Korea (Yangsan and Changnyeong) and one in Qingdao, China. Another plant in Žatec, the Czech Republic has also begun operation in 2019. Nexen Tire produces tires for passenger cars, SUVs, and light trucks with advanced technology and excellence in design. The company also focuses on producing UHP tires, which are based on advanced technologies. Nexen Tire supplies OE tires to global car makers in various countries around the world. In 2014, the company achieved a grand slam of the world's top 4 design awards for the first time amongst the various tire makers in the world. For more information, please visit https://www.nexentire.com/international/