NEXEN TIRE AMERICA INC. SPONSORS SAN BERNARDINO ADOPT-A-TRAIL PROGRAM AND MAINTAINS 13 BIG BEAR, CALIF. OFF-ROADING TRAILS
N'Fera Club, Nexen Tire America Inc.'s Enthusiast and Lifestyle Program, Supports Safe and Nature-Friendly Off-Roading Reflected Through Big Bear Adopt-a-Trail Program; Volunteer Members Will Also Assist Forest Services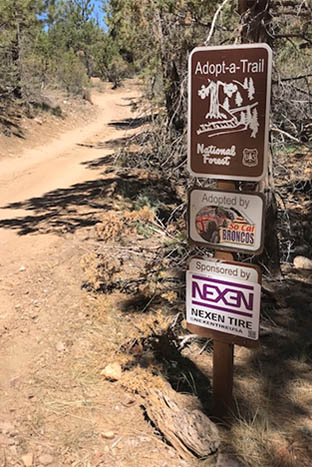 BIG BEAR, Calif. (July 16, 2018) -- Nexen Tire America Inc.'s N'Fera Club has adopted 13 off-roading trails in Big Bear, Calif. The Adopt-A-Trail volunteers contribute over 25,000 hours annually to maintain the trails in the San Bernardino National Forest. Volunteers help keep the trails clean and safe while also helping the Forest Service monitor for illegal activities and dangerous open fires as a part of the San Bernardino Forest Adopt-A-Trail program.
"There is not enough annual budget for the U.S Forest Service to maintain these forest routes," says Paul Jho, motorsports senior manager at Nexen Tire America, Inc. "We feel it's necessary to support the diverse collection of groups, clubs, and organizations that help maintain these forest roads and trails for continued public access to the backcountry."
POPULAR TRAILS. WORLD-CLASS OFF-ROAD TIRE PERFORMANCE.
Prominent OHV routes adopted by Nexen Tire include Gold Mountain Jeep Trail, Rattlesnake Canyon, Clarks Grade and Tunnel II Ridge.
Nexen recently hosted local dealers and members of the media in a two-day Jeep off-roading adventure in Big Bear to demonstrate the world-class performance of Nexen's extreme off-road tire, the Roadian MTX. With popular off-road sizes 33- 35- and 37-inch tires now available, off-roaders everywhere are able to experience the top-tier quality and performance that Nexen Tire has to offer.