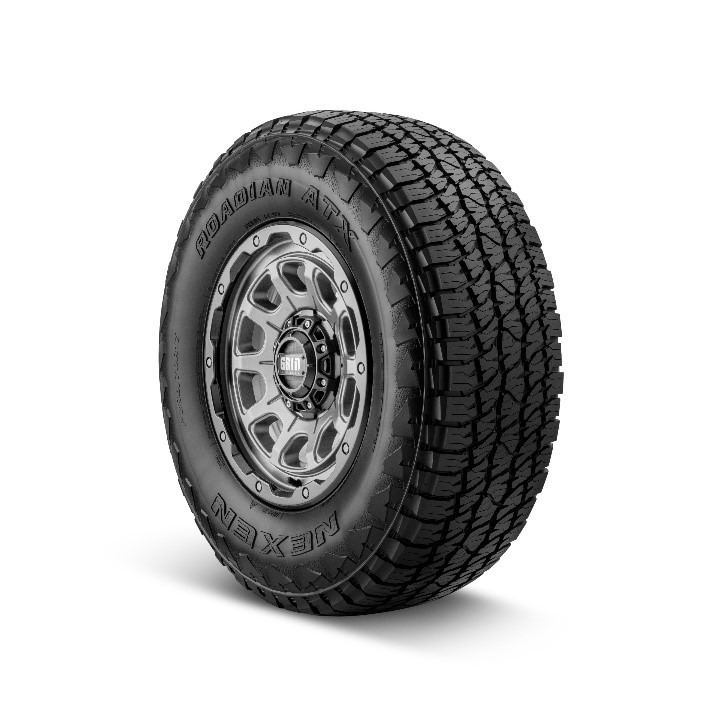 RICHFIELD, Ohio, (June 1, 2022) — Nexen Tire America, Inc., a worldwide leader in high-performance, passenger, SUV/light truck and winter tire technology, today announced the global debut of the all-new Roadian ATX, the next generation of Nexen's coveted all-terrain tire lineup. The tire gives Nexen Tire's nationwide network of dealers a new and exciting product to offer customers in the ever-growing vehicle segment of light trucks and SUVs. Because this segment has such a wide-range of vehicles, dealers will have access to 63 different SKUs ranging from 15- to 22-inch rims.
Nexen's new all-terrain tire features top-tier presentation and construction using the latest material advancements designed specifically for wet- or dry-grip. Roadian ATX makes use of next-generation tread technology specifically designed to provide better grip during the wear process. The new tire achieves this thanks to sidewall lugs and deep grooves for improved handling and composure on- and off-road. Compared to the company's earlier all-terrain tire offerings, Roadian ATX boasts increased performance in four of the most important categories to consumers: durability, wet traction, snow traction and mileage. Roadian ATX also features a reinforced 3-ply sidewall construction on most LT sizes, enabling an industry-best all-terrain tire designed for longer life and increased durability under heavy loads and higher tire pressures. Moreover, increased sidewall rigidity also enhances vehicle stability while cornering under load and heavy-towing scenarios.
During the development process, engineers chose to integrate a dual-sidewall design, a trademark feature from Nexen's highly successful Roadian MTX Xtreme Off-Road tire. This feature gives consumers the option to select from two dynamic-sidewall designs when installing the all-new Roadian ATX. Roadian ATX's dual-sidewall design makes the tire more aggressive when compared to other A/T tires, all without increasing road noise.
Specifications of the all-new Roadian ATX all-terrain tire include:
Reinforced 3-ply construction on most LT sizes
Emerging 3D sipes increases tread-to-road contact for improved traction in snow, mud and wet conditions
3PMSF Certified – Severe-winter certification to withstand heavy snow, ice and tough terrain
Available in 63 sizes
Sizes range from 15-inches to 22-inches
Speed rating S, T & H available
Top tier tread warranty
"There is a large segment of drivers who need an all-terrain tire that provides exceptional off-road capabilities without the aggressive nature of a mud-terrain tire and that became the driving force behind the Roadian ATX," said Brian YoonSeok Han, CEO of -Nexen Tire America, Inc. "We designed an extremely capable all-terrain tire that can take drivers anywhere around the world and still retain the handling, quietness and comfort of an everyday on-road tire. These features, and more, give our dealers the ability to offer the Roadian ATX with confidence knowing it's backed by a 65,000-mile treadwear mileage warranty."
Roadian ATX all-terrain tires are available standard with Nexen Tire's Total Coverage Warranty and will be available in the most popular sizes at Nexen dealers nationwide beginning June 1. Additional sizes will be available later this year.
For more information or to set up an interview with a Nexen Tire representative, please contact media@nexentireusa.com or call (310) 374-6177.
About Nexen Tire:
Inspired by Nexen's global family of drivers to engineer superior performing tires – from championship-winning Formula DRIFT drivers, rock-climbing off-road enthusiasts to everyday commuters – Nexen Tire utilizes proprietary technology and the highest quality standards in the industry to guarantee world-class products backed by unrivaled customer support for the life of each tire. As a worldwide leader in high-performance, passenger, CUV/SUV/light truck and winter offerings, the company is second-to-none in research, development and state-of-the-art manufacturing. And as part of a select group of tire manufacturers worldwide that are specified as standard fitment on original equipment vehicles, Nexen delivers premium products at a sensible price.