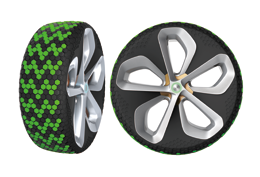 Diamond Bar, CA May 27, 2014 - Nexen Tire has been selected as a winner at the 2014 International Design Excellence Awards (IDEA), becoming the first in the tire industry to win awards at all four of the grand slam of world design awards.
Nexen Tire's spectacular winning streak started with the IF Design Award it picked up in 2011, which was quickly followed with success at the Red Dot Design Award in 2012 and at G-Mark in 2013, and now culminating with the grand slam after emerging as a winner at IDEA.
The IDEA is one of the most prestigious design awards in the world. Organized by the Design Society of America, IDEA rewards entries that display creativity, originality and appealing visual aesthetics, show a potential benefit to society, have a positive impact on the environment and can be effectively realized or implemented.
Over 2,000 entries were submitted in 16 categories for this year's competition, making the event more competitive than ever.
Nexen Tire's Green Hive project was selected as a finalist in the transportation category. The Green Hive is a concept tire that prioritizes usability, economy and sustainability for customers. Its innovative design allows the tread, which determines the life of a tire, to be replenished on a continual basis. Its creativity and innovation was particularly highly praised by the judges, who proclaimed it a truly game changing tire.
"The grand slam of the most prestigious global design awards we have achieved with this year's IDEA is proof of our design capability and extraordinary global competitiveness," said Lee Hyun-bong, Nexen Tire's CEO. "We continue to build on our quality and technological capabilities and to expand our supply to global automakers. Going forward, we will continue to launch innovative products that deliver outstanding performance and design to raise our brand value."
Additional information about Nexen Tire products is available online at nexentireusa.com. Technical support and customer service can be reached at 1-800-576-3936 or info@nexentireusa.com.