NEXEN TIRE, MANCHESTER CITY LAUNCHES NEXEN ROAD TO MAN CITY – NEW VIRTUAL FITNESS CHALLENGE FOR ALL FANS
Nexen Tire and Manchester City have announced an all-new virtual fitness challenge, dubbed Nexen Road to Man City, to help improve the health and wellbeing of fans across the world
The free virtual race encourages participants of any age or fitness level to walk, jog or run as they virtually travel around the globe starting and ending in Manchester
Weekly challenges and contests will provide fans with the chance to win exciting prizes and money-can't-buy experiences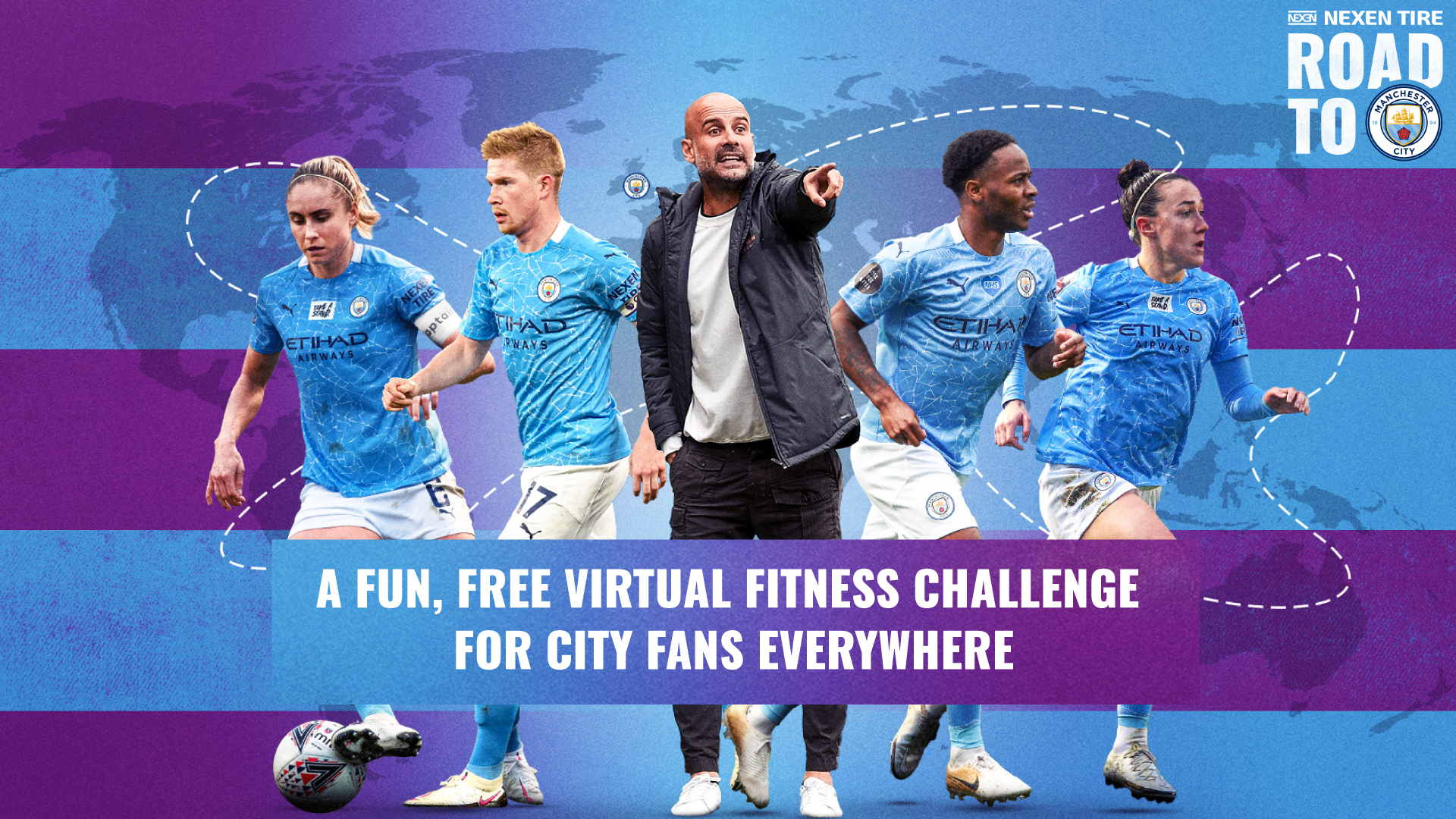 DIAMOND BAR, Calif., (Mar. 11, 2021) — Nexen Tire America, Inc., a worldwide leader in high-performance, passenger, SUV/light truck and winter tire technology, and Manchester City, today announced a new virtual fitness challenge, Nexen Road to Man City, to improve the health and wellbeing of fans across the world and help them to stay connected to the Club. The free, virtual race officially begins on April 22 and encourages participants of any age or fitness level to exercise and adopt a healthier lifestyle by getting outside and being active over a 45-day period. Participants are encouraged to walk, jog or run to accumulate their steps, and they can track those steps all from their smartphone or other compatible device via an app from Stepathlon. All participants will virtually race around the globe, competing against other fans for the chance to win hundreds of prizes and money-can't-buy experiences. To get fans motivated and moving, Nexen Tire aims to bring fans closer to the club through weekly challenges and contests taking place during the race and the registration phase on the @NexenRoadToManCity social channels.
To register for the virtual fitness challenge, visit www.roadtomancity.com and download the Road to Man City mobile app, available for both Apple and Android devices.
"Connecting with fans across the globe has never been more important and throughout the last year, the club has continued to provide new and immersive ways for them to engage, wherever they are based in the world," said Peter Laundy, vice president of partnership marketing and creative for Manchester City. "The Nexen Road to Man City is an exciting new activity for fans and sports enthusiasts alike to be able to stay close to all the action whilst improving their health and fitness and we hope fans worldwide will get involved."
The Nexen Road to Man City is the second virtual race event that the Club has delivered, but the first on a global scale, with the previous successful event taking place for fans in India with thousands of people taking part. The virtual race event will be powered by Stepathlon – The Race Management Platform.
"Nexen Tire is thrilled to be part of this truly global initiative to keep fans fit, healthy and active," said Travis Kang, global CEO of Nexen Tire. "This event, planned with Man City, is in line with our new 'We Got You' brand slogan, that is, to become a more helpful and convenient brand for consumers, anytime, anywhere. I look forward to everyone participating in this virtual event which also passes through Seoul, home of Nexen Tire, and hope it will be a source of fun for all."
Fans will be able to register for the challenge from now until April 21, with the virtual race officially kicking off on the April 22 and will commence on June 5.
To enter the virtual race, interested participants can download the Road to Man City app (available for both Apple and Android devices) or by visiting www.roadtomancity.com.
For more information or to set up an interview with a Nexen Tire representative, please contact media@nexentireusa.com or call (310) 374-6177.
About Manchester City Football Club
Manchester City FC is an English Premier League club initially founded in 1880 as St Mark's West Gorton. It officially became Manchester City FC in 1894 and has since then gone onto win the European Cup Winners' Cup, six League Championship titles, including four Premier League titles (2012, 2014, 2018, 2019), and six FA Cups. Manchester City FC is one of eleven clubs comprising the City Football Group and counts New York City FC and Melbourne City FC among its sister clubs.
Under manager Pep Guardiola, one of the most highly decorated managers in world football, the Club plays its domestic and UEFA Champions League home fixtures at the Etihad Stadium, a spectacular 55,000 seat arena that City have called home since 2003. Today, the Stadium sits on the wider Etihad Campus, which also encompasses the City Football Academy, a state-of-the-art performance training and youth development facility located in the heart of East Manchester. Featuring a 7,000 capacity Academy Stadium, the City Football Academy is also where Manchester City Women's Football Club and the Elite Development Squad train on a daily basis and play their competitive home games.
For more information, please visit www.mancity.com
About Stepathlon
Stepathlon, Co-founded by ex-IMG South Asia MD, Ravi Krishnan, is a unique health and wellness program that effectively combines wellness and social participation. The Stepathlon format aims to break the cycle of sedentary behaviour and help people understand and manage their health and wellbeing, by rewarding them for achieving their health goals.
Stepathlon was established in 2012, as a B2B wellness program that has engaged over 500,000 participants from 722 companies across 1050 locations in 65 countries over the last nine years.
Since 2019, Stepathlon has evolved into the B2C space by extending their '10,000 step- Anyone, Anywhere, Anytime' principle to a larger audience by combining inclusive engagement, mass participation with health and wellness to establish, engage and expand communities of fans and customers by working with global stakeholders across sports, media and entertainment.
About Nexen Tire:
Inspired by Nexen's global family of drivers to engineer superior performing tires – from championship-winning Formula DRIFT drivers, rock-climbing off-road enthusiasts to everyday commuters – Nexen Tire utilizes proprietary technology and the highest quality standards in the industry to guarantee world-class products backed by unrivaled customer support for the life of each tire. As a worldwide leader in high-performance, passenger, CUV/SUV/light truck and winter offerings, the company is second-to-none in research, development and state-of-the-art manufacturing. And as part of a select group of tire manufacturers worldwide that are specified as standard fitment on original equipment vehicles, Nexen delivers premium products at a sensible price.
Find out more about how Nexen Tire has your back:
#NexenHero #NexenTire #WeGotYou #NexenRacing