NEXEN TIRE MOTORSPORTS DRIVER FREDRIC AASBO DELIVERS 5TH PODIUM FINISH OF THE YEAR AT FORMULA DRIFT ROUND 7: 'SHOWDOWN'
-- Weekend Filled with Hard-Fought Battles Between Nexen Tire Motorsports Teammates Aasbo, Ryan Tuerck and Chris Forsberg – Aasbo Now Just 49 Points Out of Championship Points Lead --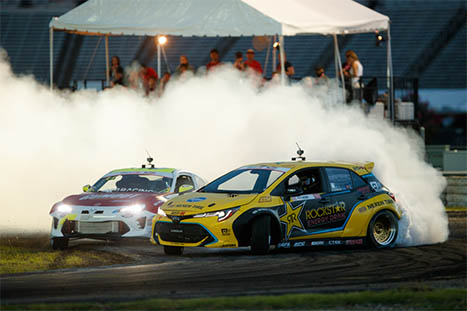 Nexen Tire Motorsports driver Frederic Aasbo drifts to victory in Fort Worth
DIAMOND BAR, Calif., September 17, 2018 -- Nexen Tire Motorsports, powerhouse global tire manufacturer of Formula DRIFT Pro 1 Series co-sponsored tire N'Fera SUR4G, is proud to congratulate Fredric Aasbo, driver of the Rockstar Energy / Nexen Tire Toyota Corolla hatchback, for his third place finish at Formula DRIFT Round 7: 'Showdown' in Fort Worth, TX. With 507 total points, Aasbo trails first place by 49 points, giving him a shot at the Pro 1 championship as he heads into the final round of the series October 13.
Despite adverse weather conditions, Nexen drivers had solid qualifying runs at Texas Motor Speedway. Alec Hohnadell qualified 2nd with several fans and other teams thinking he should have been the top qualifier. In qualifying rounds, Hohnadell had a first-round bye, but was later knocked out by Ryan Litteral. On the other side of the bracket, Aasbo was pitted against teammates Chris Forsberg and Ryan Tuerck, both of whom have podiumed this year.
"Although we didn't win, we know we are driving on the best possible tire, and the N'Fera SUR4G gave a solid performance all weekend despite rain and wind," said Aasbo. "I am really looking forward to the final round and I think our team still has a great shot at the championship."
"We delivered two podiums in the Pro 2 competition and one podium finish in the Pro 1 series, making this a very successful weekend for Team Nexen," said Paul Jho, motorsports senior manager at Nexen Tire America Inc. "We will continue to support our teams in their quest for the championship, and make sure our tires perform above and beyond their expectations."
The 2018 Nexen Tire team roster highlights include:
2015 champion and 2017 second overall driver Fredric Aasbo (Rockstar Energy / Nexen Tire Toyota Corolla hatchback)
Three-time champion and recent Nexen addition Chris Forsberg (NOS Energy Drink / Nexen Tire Nissan 370Z)
Nexen driver Ryan Tuerck (GUMOUT / Nexen Tire Toyota 86)
Alec Hohnadell (Rain-X / Nexen Tire Nissan S14)
Jhonnattan Castro (Gerdau Metaldom / Nexen Tire Toyota 86)
15-year Formula DRIFT veteran Kyle Mohan (Mazdtrix / Nexen Tire Mazda MX-5)
Kevin Lawrence (2017 Pro 2 Champion) (Enjuku Racing / Nexen Tire Nissan S14)
Dan Burkett (RAD Industries / Nexen Tire Toyota Supra)
N'FERA SUR4G: PROPRIETARY TECHNOLOGY. EXTREME PERFORMANCE. ENGINEERED FOR CHAMPIONS.
Nexen launched the Extreme UHP N'Fera SUR4G tire in 2017, and the street-legal racing tire immediately took the motorsports industry by storm. Meticulously engineered for superior performance in Formula DRIFT, SCCA and time trials, the SUR4G delivers optimal grip and response, with minimal performance drop under extreme conditions. Several Formula DRIFT Pro 1 series drivers are sporting the SUR4G tires this season as part of a co-sponsorship with the series. The SUR4G is also serving as the semi-exclusive, preferred tire for the Formula DRIFT Pro 2 Series.
The Formula DRIFT season culminates on October 13 in Irwindale, Calif.