NEXEN TIRE MOTORSPORTS' SHOWS DOMINANCE IN 2019 FORMULA DRIFT SEASON -- ENTERS ROUND 4: 'THE GAUNTLET' WITH ONE WIN, TWO PODIUM FINISHES
Nexen Tire Motorsports drivers showing dominance on the track with Nexen N'Fera SUR4G street-legal tire – an extreme ultra high-performance tire for the track and street
Fredric Aasbo wins in Atlanta, Chris Forsberg reaches podium with a second in Orlando and third in Long Beach
Nexen Tire Motorsports driver Trent Beechum currently holds number one spot in 2019 PRO 2 Standings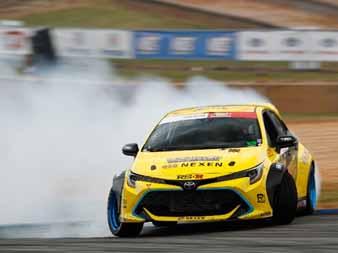 DIAMOND BAR, Calif. (June 7, 2019): Nexen Tire America, Inc., a worldwide leader in high-performance, passenger, SUV/light truck and winter tire technology, prepares for Round 4: The Gauntlet in Wall, New Jersey, of the 2019 Formula DRIFT season after scoring a win and two podium finishes by its star drivers Fredric Aasbo, driver of the Nexen Tire / Rockstar Energy Drink Toyota Corolla hatchback and Chris Forsberg, driver of the NOS Energy Drink / Nexen Tire Nissan 370Z. This weekend's competition marks the halfway point for the season, and Nexen Tire Motorsports is looking to continue its dominance on the track.
The 2019 season kicked off April 5 with Round 1: Streets of Long Beach with Formula DRIFT Champion and Nexen Tire Motorsports driver Forsberg piloting his Nissan 370Z to a third-place finish. In Round 2: Scorched in Orlando, Fla., April 25, Forsberg again reached the podium with a second-place finish. Things started coming together in Round 3: Road to the Championship on May 9 in Atlanta, where Aasbo brought Nexen its first win of the season. With just five more Formula DRIFT events this year, both drivers continue to fight for wins and points toward the driver championship, as well as helping Nexen Tire Motorsports win the coveted Tire Cup championship.
Formula DRIFT Pro 1 isn't the only series giving Nexen Tire Motorsports podium finishes. Three different Pro 2 drivers have notched two wins and a third-place finish, helping reinforce Nexen Tire's dominance in both Formula DRIFT series.
2019 Formula DRIFT Pro 2 results through three events include:
Trent Beechum, first place, Round 2: Scorched
Josh Robinson, first place, Round 3: Road to the Championship
Garrett Denton, third place, Round 3: Road to the Championship
Beechum is currently in the top spot for the Pro 2 championship, followed by Robinson in second and Denton in fourth. This success puts Nexen Tire Motorsports in a solid second place just 20 points behind the leader for the 2019 Tire Cup championship.
Nexen Tire is using the momentum they got following a very successful 2018 Formula DRIFT season where they finished second in the Tire Cup championship with Pro 1 drivers scoring two wins and nine podium finishes.
2019 Nexen Tire Motorsports Pro 1 Drivers:
Fredric Aasbo (Rockstar Energy / Nexen Tire Toyota Corolla hatchback)
Chris Forsberg (NOS Energy Drink / Nexen Tire Nissan 370Z)
Alec Hohnadell (Nexen Tire Nissan S14)
Jhonnattan Castro (Gerdau Metaldom / Nexen Tire Toyota 86)
Dan Burkett (RAD Industries / Nexen Tire Toyota Supra)
Federico Sceriffo (FFF Drifting Department / Nexen Tire Ferrari 599)
Kyle Mohan (Kyle Mohan Racing / Nexen Tire Mazda RX8)
Ryan Litteral (Koruworks / Nexen Tire Nissan 350Z)
Austin Meeks (Verocious Motorsports / Nexen Tire Cadillac ATS/V)
Jeff Jones (Drink Doc / Nexen Tire Nissan 370z)
2019 Nexen Tire Motorsports Pro 2 Drivers:
Trent Beechum
Josh Robinson
Garrett Denton
Ola Jaegar
Troy Manners
Rob Carlsen
Donovan Brockway
Derek Madison
Dalton Gernhart
Andrew Schulte
Karolina Pilarczyk
Shaun Doom
The entire Nexen Motorsports team relies on Nexen Tire's extreme ultra high performance N'Fera SUR4G street-legal tire to secure the win. The SUR4G is a result of Nexen's countless hours of research and development and is engineered to create the ultimate tire solution. The N'Fera SUR4G boasts patented 'extreme ultra high-performance technology' enabling superior grip and unmatched handling, no matter the weather condition.
Using advanced, proprietary design elements like wide center ribs to provide maximized vertical stiffness for enhanced high-speed forward driving stability and maximized diagonal block stiffness to enhance handling performance when cornering, Nexen Tire Motorsports drivers have the control they need to win at the highest levels of Formula DRIFT competition.
"Following Fredric's win in Atlanta, we are very excited to get back on the track and see how he and our other drivers can follow-up his success. We've got a lot of momentum right now and we believe this could be our year for both a driver and Tire Cup championship," said Paul Jho, motorsports senior manager at Nexen Tire America, Inc. "Now that competition is heating up, the second half of this season is going to challenge all our drivers. However, we are confident the N'Fera tires they rely on for maximum control on the track will give them the edge to continue competing for wins."
About Nexen Tire: Inspired by Nexen's global family of drivers to engineer superior performing tires – from championship-winning Formula DRIFT drivers, rock-climbing off-road enthusiasts to everyday commuters – Nexen Tire utilizes proprietary technology and the highest quality standards in the industry to guarantee world-class products backed by unrivaled customer support for the life of each tire. As a worldwide leader in high-performance, passenger, SUV / light truck and winter offerings, the company is second-to-none in research, development and state-of-the-art manufacturing. And as part of a select group of tire manufacturers worldwide that are specified as standard fitment on original equipment vehicles, Nexen delivers premium products at a sensible price.
Find out more about how Nexen Tire has your back:
#NexenTire #WeGotYou #NexenRacing
Or Contact: