NEXEN TIRE MOTORSPORTS WRAPS UP 2018 FORMULA DRIFT SEASON WITH THREE FIRST-PLACE WINS AND SEVERAL PODIUM FINISHES – TEAM DRIVER FREDRIC AASBO TAKES SECOND IN TIRE CUP CHAMPIONSHIP
-- 2018 Formula DRIFT Series Highlights the Power and Performance of Nexen's Extreme UHP N'Fera SUR4G Tires – Poised to Dominate 2019 Formula Drift Season --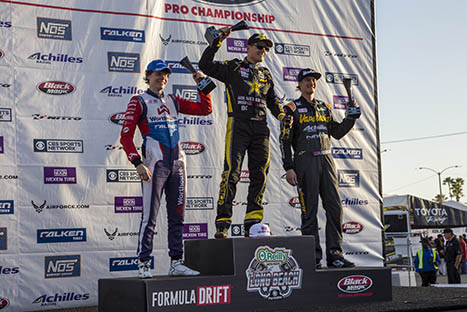 DIAMOND BAR, Calif., October 5, 2018 -- Nexen Tire Motorsports, powerhouse global tire manufacturer of Formula DRIFT Pro 1 Series co-sponsored tire N'Fera SUR4G, announces the completion of another highly-successful season in Formula DRIFT racing notching three first-place wins and several podium finishes by its team of premier drivers. Nexen Tire Motorsports entered the season with eight of the sport's top Formula DRIFT Pro 1 drivers, all showing a consistent level of talent to garner top finishes throughout the entire season of Pro 1 competition. The 2018 Formula DRIFT season wrapped up with round eight "The Title Fight" in Irwindale on October 13 where points-leading Nexen Tire Motorsports team member Fredric Aasbo, driver of the Rockstar Energy / Nexen Tire Toyota Corolla hatchback, finished in second place in the final race as well as taking second place in the overall driver standings.
Not only has Nexen Tire Motorsports had one of its strongest group of drivers in Formula DRIFT competition, it also earned a second-place finish in 2018 Tire Cup Championship. Aasbo was behind leading into the final race by a significant amount, and by the time the weekend was over, he was behind within just four points and the championship itself.
Overall, Nexen Tire Motorsports wrapped up the season with three drivers placing in the top ten of this year's Formula DRIFT Pro 1 competition.
2018 Nexen Tire Motorsports Pro 1 Standings:
2nd Place - Fredric Aasbo (Rockstar Energy / Nexen Tire Toyota Corolla hatchback) – Six podium finishes, (three wins, two second place and one third place)
4th Place - Chris Forsberg (NOS Energy Drink / Nexen Tire Nissan 370Z) – Two podium finishes, (one win and one third place)
6th Place - Ryan Tuerck (GUMOUT / Nexen Tire Toyota 86) – One second-place podium finish
15th Place - Alec Hohnadell (Rain-X / Nexen Tire Nissan S14) – One top eight finish
18th Place - Jhonnattan Castro (Gerdau Metaldom / Nexen Tire Toyota 86)
22nd Place - Dan Burkett (RAD Industries / Nexen Tire Toyota Supra)
26th Place - Kyle Mohan (Mazdtrix / Nexen Tire Mazda MX-5)
27th Place - Kevin Lawrence (Enjuku Racing / Nexen Tire Nissan S14)
The 2018 Formula DRIFT season kicked-off in a battle for supremacy on April 11 with a round-one win at the Streets of Long Beach by multi-championship driver Aasbo. Nexen Tire Motorsports driver Forsberg took the win in round two in Orlando, Fla., and in round three in Atlanta, Ga., both Aasbo and Forsberg found the podium with second and third place respectively. Nexen driver Tuerck reached the podium with a second place in Monroe, Wash., and championship-contender Aasbo kept his podium-winning hopes alive with a win in round six in St. Louis, Mo., and a solid third place finish in round seven in Dallas, Texas.
Paul Jho, motorsports senior manager at Nexen Tire America Inc., saw first-hand the team's consistency and driver's will-to-win at every stop on the Formula DRIFT Pro 1 series.
"When you're working with a group as talented as Nexen Tire Motorsports Formula DRIFT Pro 1 series drivers, you really have to bring your best to the table to match the energy of these incredibly gifted individuals," said Jho. "I know Nexen Tire Motorsports brings that energy every week and we are very proud of the team's accomplishments this season. We are already looking forward to the 2019 Formula DRIFT season and believe we will have another great shot at both the driver and tire cup championships."
"The Nexen Tire N'Fera SUR4G is hands-down the best-possible tire for this competition, and it has given us solid performance the entire season in just about all different racing conditions," said Aasbo. "The Nexen Tire Motorsports squad gave it their all this year, and it shows. We couldn't have performed at this level without the help of our sponsors like Nexen Tire, and we are grateful for all of the support they provided to our teams."
The Nexen Tire Motorsports Team will spend the offseason preparing for the 2019 Formula DRIFT season and they are already being considered as top contenders to battle for the driver- and tire-cup championships. Driver announcements will be made prior to the 2019 season.