NEXEN TIRE N'FERA SPORT, N'BLUE S AND WINGUARD SPORT 2 SELECTED AS ORIGINAL EQUIPMENT FOR 2021/2022 AUDI A3
N'Fera Sport boasts outstanding performance on wet and dry road surfaces
N'Blue S features reduced road noise and better fuel efficiency
Winguard Sport 2 designed for winter driving and long mileage performance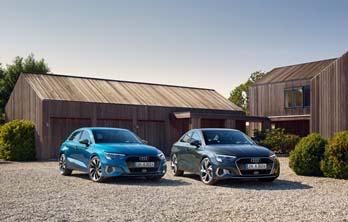 DIAMOND BAR, Calif., (Feb. 24, 2021) — Nexen Tire America, Inc., a worldwide leader in high-performance, passenger, SUV/light truck and winter tire technology, has been selected as original equipment on the 2021/2022 Audi A3. Nexen Tire will supply its N'Fera Sport, N'Blue S and the Winguard Sport 2 tires on the all-new fourth-generation Audi A3. Built on Volkswagen Group's proven MQB compact/midsize platform, the 2021/2022 Audi A3 is a premium compact vehicle available in both sedan and sportback versions. The new A3 is a complete redesign and features performance-enhanced handling characteristics.
Since the new A3 is so versatile, each of the three Nexen tires selected will play a key role in how vehicle owners plan to use their new Audi A3.
Nexen Tire's N'Fera Sport is a European-style premium sports tire designed to provide enhanced performance on wet- and dry-road surfaces. N'Fera Sport features favorable performance-driving stability and handling performance while providing increased tire grip and braking power.
The company's N'Blue S is designed for eco-friendly performance vehicles. N'Blue S offers reduced road noise and better fuel efficiency. On the performance side, N'Blue S boasts improved high-speed drainage and increased braking efficiency in wet conditions.
Nexen Tire's Winguard Sport 2 is a premium winter tire designed for long-mileage performance thanks to larger, wider grooves which effectively drain water, providing better braking performance on icy and/or snowy roads and help to reduce chances of hydroplaning.
"We've found that our customers are using their vehicles for more than one purpose, and with vehicles like the all-new Audi A3 offering a confidence-inspiring driving experience, we want drivers to know we have them covered," said John Hagan, executive vice president of sales for Nexen Tire America, Inc. "We're excited to continue adding new OEM applications to our portfolio and will continue to provide leading tire solutions worthy of these premier vehicles."
The new tire sizes include:
N'Fera Sport - 225/45R17 91Y
N'Blue S - 205/55R16 91V
Winguard Sport 2 - 205/55R16 91H
For more information or to set up an interview with a Nexen Tire executive, please contact media@nexentireusa.com or call (310) 374-6177.
About Nexen Tire:
Inspired by Nexen's global family of drivers to engineer superior performing tires – from championship-winning Formula DRIFT drivers, rock-climbing off-road enthusiasts to everyday commuters – Nexen Tire utilizes proprietary technology and the highest quality standards in the industry to guarantee world-class products backed by unrivaled customer support for the life of each tire. As a worldwide leader in high-performance, passenger, CUV/SUV/light truck and winter offerings, the company is second-to-none in research, development and state-of-the-art manufacturing. And as part of a select group of tire manufacturers worldwide that are specified as standard fitment on original equipment vehicles, Nexen delivers premium products at a sensible price.
Find out more about how Nexen Tire has your back:
#NexenHero #NexenTire #WeGotYou #NexenRacing