Nexen Tire Renews Partnership with Anaheim Ducks, Honda Center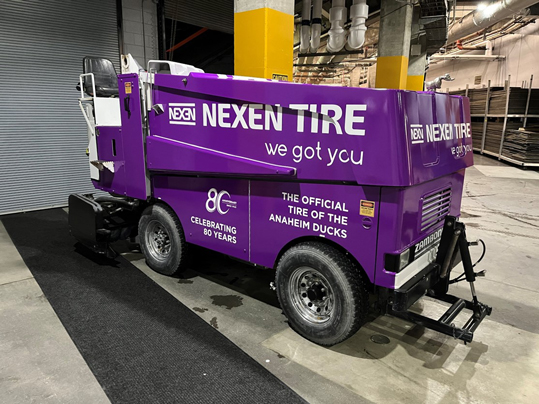 Nexen Tire America, Inc., a worldwide leader in high-performance, passenger, SUV/light truck and winter tire technology, today announced a renewed partnership as the exclusive tire for the Anaheim Ducks and Honda Center. The partnership renewal also enables Nexen Tire category exclusivity as the only tire company to be partnered with the Anaheim Ducks and Honda Center. Each year, more than 1.3-million Ducks fans across southern California make their way to the home of the Anaheim Ducks, the Honda Center, where fans will experience a wide variety of Nexen Tire branding for each of the team's regular season and playoff home games inside the 650,000 square-foot Honda Center arena. In addition to fans attending in person, Nexen Tire will receive exposure to millions of television viewers in every major North American market. This year, Nexen Tire has expanded its partnership by incorporating new initiatives.
Nexen Tire Renews Partnership with Anaheim Ducks, Honda Center
Fans of NHL will instantly recognize one of the most well-known elements associated with hockey, but this year with a new twist. Nexen Tire is taking over the Zamboni ice resurfacer with its own branding thanks to its all-new iconic purple Nexen Tire livery. The Zamboni will be on the ice for nearly 30 minutes each game to remind fans that Nexen Tire has their back. The Zamboni will also be outfitted with Nexen's award winning Winguard studable ice and snow tires.

5K Fun Run
On Sunday, Nov 13, Ducks Head Coach Dallas Eakins and his wife Ingrid will host the inaugural Anaheim Ducks Rise & Run Coaches Challenge at Great Park in Irvine, Calif. Nexen Tire encourages all Southern California fans to participate, as both competitive and casual runners/walkers are welcome. As a thank you for participating, each participant will receive a plethora of swag, including a custom Ducks medal, a runner's bib, team swag and a ticket to watch the Ducks take on the Detroit Red Wings days later Nov 15th at Honda Center.
Enter-To-Win Campaign
Fans will have the opportunity to engage in enter-to-win campaigns on Anaheim Ducks social media, providing excellent engagement between fans and Nexen. The enter-to-win campaign will be promoted on Anaheim Ducks social media, AnaheimDucks.com and in-arena at Honda Center to generate as much interest as possible. Prizes will range from an expenses-paid getaway to branded swag and more.
Puck Drop Patio
Available at Ducks games during pre-game and in-game, Puck Drop Patio is the place to be for live music, prizes, unique food truck fare and more. The Puck Drop Patio is located just outside of Honda Center's North entrance and is open 90-minutes before puck drop. During select games, fans can take advantage of the Nexen Tire activation for tire giveaways, swag and the step & repeat photo opportunity with Wild Wing and Power Players as well.
The Anaheim Ducks secured the first Stanley Cup championship in franchise history in 2007, becoming the first team from California to win hockey's ultimate prize. The Ducks have reached the Conference Finals five times (2003, 2006, 2007, 2015 & 2017) and the Stanley Cup Final twice (2003 & 2007). The Ducks look to a promising future with five first-round picks from the last three NHL Drafts, including Trevor Zegras (ninth overall in 2019), Brayden Tracey (29th overall in 2019), Jamie Drysdale (sixth overall in 2020), Jacob Perreault (27th overall in 2020) and Mason McTavish (third overall in 2021). Those five first-round picks represent the most in the Western Conference. "We are excited to continue and increase our partnership with a championship NHL franchise like the Anaheim Ducks and their premier arena, the Honda Center," said Brian Yoonseok Han, CEO of Nexen Tire America, Inc. "This partnership has continued to introduce the Nexen Tire brand to millions of NHL fans, and we're thrilled to invest more into our relationship with the Anaheim Ducks and Honda Center, as we believe this will help increase our presence in sports."
The partnership renewal continues to strengthen Nexen Tire Global's rapidly growing sports-marketing partnership portfolio, bolstering existing partnerships with massive sports icons like the Chicago Blackhawks, Manchester City, U.S. Formula DRIFT, AC Milan and Frankfurt Eintracht.
For more information or to set up an interview with a Nexen Tire representative, please contact media@nexentireusa.com or call (310) 374-6177.
About Nexen Tire:
Inspired by Nexen's global family of drivers to engineer superior performing tires – from championship-winning Formula DRIFT drivers, rock-climbing off-road enthusiasts to everyday commuters – Nexen Tire utilizes proprietary technology and the highest quality standards in the industry to guarantee world-class products backed by unrivaled customer support for the life of each tire. As a worldwide leader in high-performance, passenger, CUV/SUV/light truck and winter offerings, the company is second-to-none in research, development and state-of-the-art manufacturing. And as part of a select group of tire manufacturers worldwide that are specified as standard fitment on original equipment vehicles, Nexen delivers premium products at a sensible price.