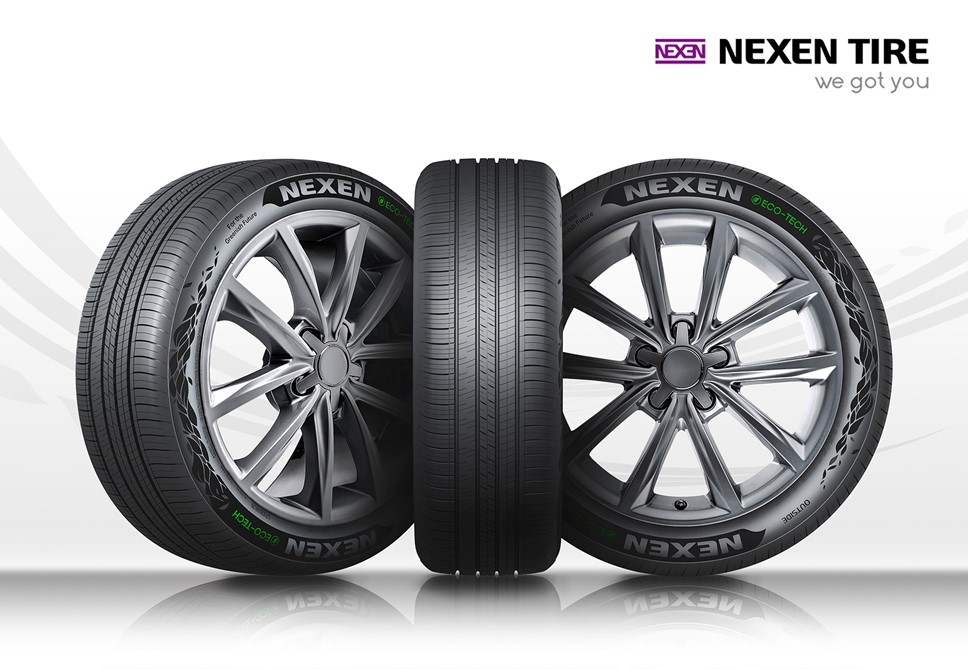 RICHFIELD, Ohio, (April 27, 2023) — Nexen Tire America, Inc., a worldwide leader in high-performance, passenger, SUV/light truck and winter tire technology, today announced the unveiling of its sustainable-material demonstration tire composed of 52% sustainable materials and is an example of the company's extensive activities in pursuit of sustainability.
The tire maker's experts used current- and emerging-technologies to engineer sustainable tires for vehicles to create the demonstration tire. Furthermore, the tire is built with more than 52% sustainable materials and contributes to the company's goal of expanding to sustainable raw materials.
The demonstration tire is made of up of 44% renewable materials, including natural rubber, bio-based synthetic rubber and silica derived from rice husk waste residue. Another significant feature of the demonstration tire is that it is made of 8% recycled materials using polyester cord formed from recycled plastic PET bottles and bead wire derived from scrap iron using an electric arc furnace.
"This research demonstrates our commitment to becoming one of the most forward-thinking tire companies in terms of ESG," stated a representative at Nexen Tire. "We looked into new technologies and identified opportunities for the future. As a result, our team's dedication demonstrated our ability to produce a tire with 52% sustainable raw materials. Nexen Tire's innovation in building a better future continues."
For more information or to set up an interview with a Nexen Tire representative, please contact media@nexentireusa.com or call (310) 374-6177.
About Nexen Tire:
Inspired by Nexen's global family of drivers to engineer superior performing tires – from championship-winning Formula DRIFT drivers, rock-climbing off-road enthusiasts to everyday commuters – Nexen Tire utilizes proprietary technology and the highest quality standards in the industry to guarantee world-class products backed by unrivaled customer support for the life of each tire. As a worldwide leader in high-performance, passenger, CUV/SUV/light truck and winter offerings, the company is second-to-none in research, development and state-of-the-art manufacturing. And as part of a select group of tire manufacturers worldwide that are specified as standard fitment on original equipment vehicles, Nexen delivers premium products at a sensible price.
Find out more about how Nexen Tire has your back:
#NexenHero #NexenTire #WeGotYou #NexenRacing
Or Contact: