Nexen Tire Roadian AT Pro RA8 – 3 Peak Mountain Snow Flake Certified
New Molds Starting Production June 2019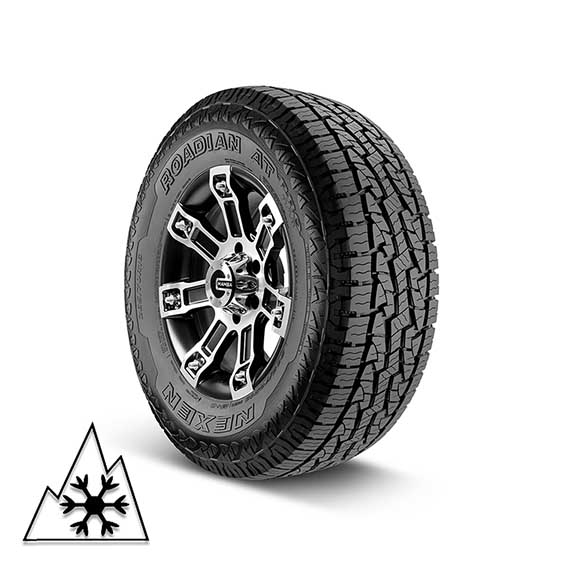 Diamond Bar, Calif. (June 18, 2019): Nexen Tire America, Inc.,a worldwide leader in high-performance, passenger, SUV/light truck and winter tire technology, is excited to announce the Roadian AT Pro RA8 is now three-Peak Mountain Snow Flake (3PMSF) certified. This All-Terrain tire has always been comprised of the highest quality compounds and design for optimal mud extraction, noise reduction and wear, and now the 3PMSF mark on the sidewall further proclaims its ultimate snow and ice performance for the roughest of wintery conditions with no performance tradeoffs.
A three-peak mountain snowflake symbol indicates the Roadian AT Pro RA8 meets required performance criteria in snow testing to be considered severe snow service rated. This coveted mark on the sidewall of the tire showcases it can withstand snow, ice, and tough terrain. Add this to a 50,000 mile limited warranty with 36 months of roadside assistance* and consumers are sure to feel secure that they're in the best of hands with Nexen Tire. The AT Pro RA8 comes in both P-metric and LT-metric sizes, ranging from 15" to 22". The 3PMSF is not available on OEM or Flotation sizes.
Production of new molds with the 3PMSF mark have started June of 2019, are available for order now, and can be delivered in about 60-90 days – perfect for the coming winter season. Contact your Nexen Tire customer service representative for more details on ordering.
*Warranty varies slightly from P-Metric to LT-Metric
About Nexen Tire: Inspired by Nexen's global family of drivers to engineer superior performing tires – from championship-winning Formula DRIFT drivers, rock-climbing off-road enthusiasts to everyday commuters – Nexen Tire utilizes proprietary technology and the highest quality standards in the industry to guarantee world-class products backed by unrivaled customer support for the life of each tire. As a worldwide leader in high-performance, passenger, SUV / light truck and winter offerings, the company is second-to-none in research, development and state-of-the-art manufacturing. And as part of a select group of tire manufacturers worldwide that are specified as standard fitment on original equipment vehicles, Nexen delivers premium products at a sensible price.
Find out more about how Nexen Tire has your back:
#NexenTire #WeGotYou #NexenRacing
Or Contact: