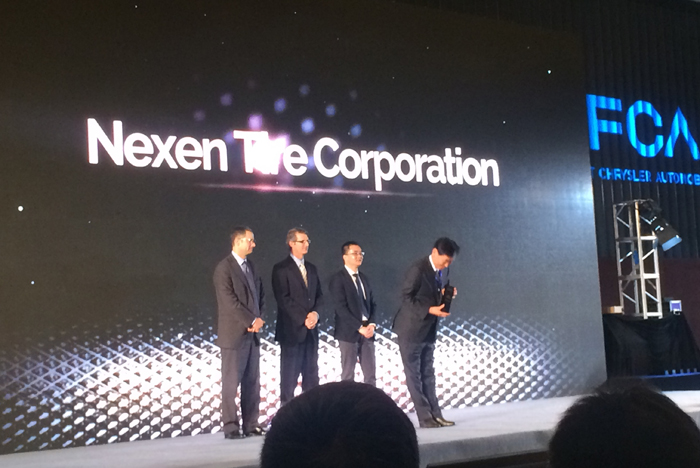 Fiat Chrysler Automobiles (FCA) chose Nexen Tire Corp. as an "excellent supplier" during the 2014 APAC Supplier Town Hall and Awards Ceremony held in Shanghai. The FCA evaluates technical skills, quality and brand value in order to give recognition to the most outstanding suppliers each year. This year Nexen Tire was the only tire company to have won the award in the Chemical APAC Export sector, proving its global competitiveness.
Nexen Tire will be supplying their Roadian CT8 HL to become the original equipment (OE) tires for the Dodge ProMaster. Nexen is also currently the OE tire for the Chrysler 200 mid-sized sedan and the Ram 3500 pick-up truck. The 2015 "Ram ProMaster" model will be manufactured in the Saltillo, Mexico and sold in North America.
Nexen Tire has been recognized for its world class technical skills and quality, giving them the opportunity to have an ongoing supply agreement for additional FCA's models. Nexen is also expanding its global sales by supplying original equipment tires to highly recognized, global automobile companies such as Volkswagen, Mitsubishi, Skoda and Seat.
About Nexen Tire
Nexen Tire is a global manufacture of high performance, passenger, SUV / light truck and winter tires, utilizing the latest technologies and delivering the highest quality in the industry. Nexen is also one of a select group of tire manufactures that are specified as standard fitment on original equipment vehicles, which is a true testament to its quality products. Investments made in state of the art manufacturing and cutting edge research and development ensure that Nexen will continue to deliver on its brand promise to customers. Nexen is dedicated to ensuring that active families and individuals reach their destination safely while enjoying a smooth comfortable ride. More information about Nexen's products and its brand promise is available online at nexentireusa.com