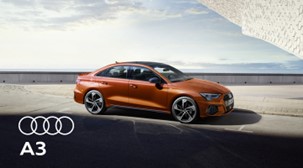 RICHFIELD, Ohio, (Feb. 27, 2023) — Nexen Tire America, Inc., a worldwide leader in high-performance, passenger, SUV/light truck and winter tire technology, today announced its N'Fera AU7 Ultra High-Performance All-Season Tire has been selected as original equipment on the fouth-generation Audi A3 in the U.S. market. The fourth-generation Audi A3 was refreshed in early 2020 with new exterior styling and robust enhancements in both performance and technology. A3 will be fitted with Nexen Tire's N'Fera AU7 Ultra High-Performance All-Season tires in size 225/45R17 91H from the factory. N'Fera AU7 was created by Nexen Tire to provide exceptional comfort. This was accomplished with improved wet performance by improving the tread compound grip with 3D nano grip technology. Because of the use of 3D sipes, it is also suitable for all seasons. Not only that, but it provides the ideal blend of ride comfort and performance thanks to noise reduction technology.
"With more than 30 unique OE partnerships currently, Nexen Tire continues to add new and diverse OE applications to our supplier portfolio, reinforcing our goal of becoming a global top 10 tire manufacturer by 2025," said Brian YoonSeok Han, CEO of Nexen Tire America, Inc. "Nexen currently provides OE tire solutions to many of Volkswagen Group's best-selling vehicles, like Jetta and now Audi's A3, and we look forward to providing additional tire solutions for the brand in the future."
For more information or to set up an interview with a Nexen Tire representative, please contact media@nexentireusa.com or call (310) 374-6177.
About Nexen Tire:
Inspired by Nexen's global family of drivers to engineer superior performing tires – from championship-winning Formula DRIFT drivers, rock-climbing off-road enthusiasts to everyday commuters – Nexen Tire utilizes proprietary technology and the highest quality standards in the industry to guarantee world-class products backed by unrivaled customer support for the life of each tire. As a worldwide leader in high-performance, passenger, CUV/SUV/light truck and winter offerings, the company is second-to-none in research, development and state-of-the-art manufacturing. And as part of a select group of tire manufacturers worldwide that are specified as standard fitment on original equipment vehicles, Nexen delivers premium products at a sensible price.
Find out more about how Nexen Tire has your back:
#NexenHero #NexenTire #WeGotYou #NexenRacing
Or Contact: