NEXEN TIRE TALK SHOW TAKES AUDIENCE INSIDE THE TIRE INDUSTRY THROUGH ONLINE PODCAST
-- New platform informs listeners about Nexen's tire lineup, latest company updates, motorsports and more –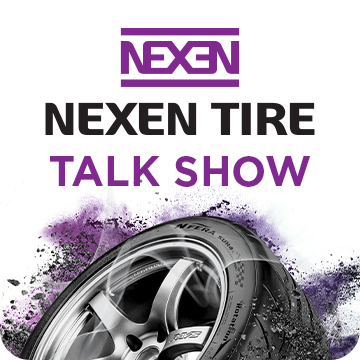 DIAMOND BAR, Calif., (Oct. 21, 2020) — Nexen Tire America, Inc., a worldwide leader in high-performance, passenger, SUV/light truck and winter tire technology, today announced the Nexen Tire Talk Show. John Hagan, Nexen Tire's executive vice president of sales, will host the podcast and deliver the latest and greatest on tire- and automotive-industry news. The podcast provides listeners with the inside scoop on tire releases, company updates, motorsports involvement, tire manufacturing, tire technology and more.
With seven podcast episodes already available for streaming, Nexen Tire is taking listeners deep into the tire industry to cover several exciting topics.
Episode topics include:
Introduction to Nexen Tire America and how the company is more than just a tire manufacturer
History of Nexen Tire and how they were the first tire company based in South Korea
Nexen Tire's impeccable record of half a billion tires without a single recall thanks to rigorous R&D program
Formula DRIFT drivers help shape Nexen's lineup of high-performance tires for consumers
How to become a Nexen Tire Next Level Dealer for brick-and-mortar retailers
Nexen Tire's most recent episode marks its first ever product-focused segment introducing its newest tire, the Roadian GTX, to fans and listeners. As the crossover and SUV markets continue to expand, Nexen Tire saw the need for a long-lasting tire solution for these vehicles.
Future episodes of the Nexen Tire Talk Show will include a variety of similar topics, such as new products, industry trends, special guest appearances and more.
"With the rise in popularity of online podcasts, we felt it was the right time to launch our all-new podcast," said John Hagan, executive vice president of sales for Nexen Tire America, Inc. "The Nexen Tire Talk Show centers around many exciting tire-related subjects and with the introduction of this new platform, we will continue to help educate dealers and consumers about top-tier tires like those offered by Nexen Tire."
The Nexen Tire Talk Show is available for streaming online at:
For more information or to set up an interview with a Nexen Tire executive, please contact media@nexentireusa.com or call (310) 374-6177.
Find out more about how Nexen Tire has your back:
#NexenHero #NexenTire #WeGotYou #NexenRacing
Or Contact: