NEXEN TIRE TEAMS UP WITH MANCHESTER CITY FOOTBALL CLUB'S CITYZENS GIVING PROGRAM FOR A SECOND CONSECUTIVE YEAR TO PROMOTE HEALTHY LIVING TO YOUNGSTERS IN LA
Nexen Tire continues its commitment to promoting happiness, health and prosperity during the holiday season
Nexen Tire supports annual Cityzens Giving community football festival which gives back to families in need, promotes healthier eating habits and helps educate local youth
The company has donated three sets of tires and $1,500 toward holiday meals to the Cityzens Giving Healthy Goals program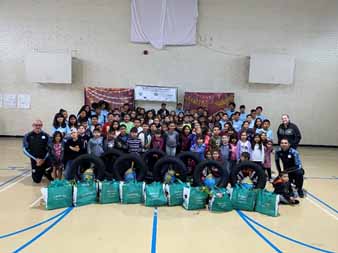 DIAMOND BAR, Calif., (Dec. 3, 2019) — Nexen Tire America, Inc., a worldwide leader in high-performance, passenger, SUV / light truck and winter tire technology, partnered with Manchester City Football Club for a second consecutive year to help promote its global community initiative, Cityzens Giving. Here in Los Angeles, the Cityzens Giving Healthy Goals program empowers young leaders to bring to light the importance of healthy living to youngsters across the city through the power of soccer.
Over the Thanksgiving holiday, Nexen Tire teamed up with Manchester City to provide on-site support for the program in LA. Nexen's support enabled Manchester City community coaches to return for a second year to deliver training to 16 Young Leaders on a pitch that was first donated to East LA Rising by Manchester City and the UAE Embassy in 2011.
Through a combination of classroom- and on-the-pitch workshops, the Young Leaders developed their leadership and life skills, practical planning and an understanding of how to use soccer as a tool to educate local youngsters on the benefits of exercise and nutrition, and to promote healthy lifestyle choices. The Young Leaders then put their newly developed skills into action by planning and delivering a Thanksgiving football festival for more than 100 children from the local community on the final day.
In addition, Nexen has donated $1,500 toward holiday meals which were gifted to families from the program. Nexen has also provided three sets of its NPriz AH8 Grand Touring All Season tires for use on transportation vans. East LA Rising can now confidently transport youngsters who participate in the program safely and securely thanks to new tires from Nexen.
Nexen Tire's continued generous support and participation in the Cityzens Giving program helps to further the impact of Healthy Goals which was successfully launched in 2017. To date, the program has empowered over 40 Young Leaders who have in turn positively impacted the lives of 487 young people in LA using the universal language of football.
"Nexen Tire continues to prioritize more involvement in our local communities, and we're extremely proud to be an official supporter of the Cityzens Giving Healthy Goals program for a second consecutive year," said Megan Wentz, marketing manager for Nexen Tire. "We see the impact the program is making on young people and their families in Los Angeles and we're honored to help make a difference in their lives."
Tom Pitchon, director of City Football Foundation said: "Manchester City is committed to using football to give city kids across the world a better shot at life. We are delighted to be partnering with Nexen Tire in LA, to build healthier and brighter futures for local youngsters through the power of football".
For more information please contact media@nexentireusa.com or call (310) 374-6177.
About Cityzens Giving:
Cityzens Giving empowers fans to decide how youth-led community football projects are funded across the globe. Since the launch of Cityzens Giving more than five years ago, over 1000 Young Leaders have been trained with over 10,000 young people across 20 cities now engaged each year through the projects. Each year, fans are given the opportunity to choose how funds, donated by City Football Group and its partners, are split between six different projects.
In addition to funding, every season young leaders are invited to Manchester City's Young Leaders Summit held at City Football Academy to share learning about how they are using the power of football to address social issues in their local communities.
In October 2016, Cityzens Giving won Corporate Citizenship Campaign of the Year at the annual Beyond Sport Awards, designed to support and reward the best projects across the globe that are using sport for positive social change.
For more information, please visit www.mancity.com/cityzensgiving
About Nexen Tire:
Inspired by Nexen's global family of drivers to engineer superior performing tires – from championship-winning Formula DRIFT drivers, rock-climbing off-road enthusiasts to everyday commuters – Nexen Tire utilizes proprietary technology and the highest quality standards in the industry to guarantee world-class products backed by unrivaled customer support for the life of each tire. As a worldwide leader in high-performance, passenger, SUV / light truck and winter offerings, the company is second-to-none in research, development and state-of-the-art manufacturing. And as part of a select group of tire manufacturers worldwide that are specified as standard fitment on original equipment vehicles, Nexen delivers premium products at a sensible price.
Find out more about how Nexen Tire has your back:
#NexenHero #NexenTire #WeGotYou #NexenRacing
Or Contact:
###