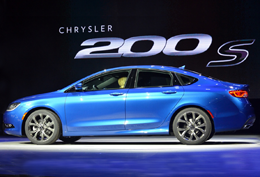 Nexen Tire announced on January 24th that it will supply original equipment (OE) tires for the All New Chrysler 200.
The 2015 model will go into production at the maker's Sterling Heights plant in March of this year, and will be fitted with Nexen's 17 to 19 inch CP671 tires.
Chrysler unveiled its All New 200 fitted with Nexen's CP671 to rave reviews at the 2014 North American International Auto Show (Detroit Motor Show).