NEXEN TIRE USA ALIGNS WITH NEW YORK CITY DEPARTMENT OF TRANSPORTATION'S "VISION ZERO" SAFE DRIVING CAMPAIGN
-- Nexen Tire USA, Touted for More Than 70 Years of Zero Safety Recalls, Issues Times Square Billboard Supporting New York Department of Transportation Driver Safety Campaign --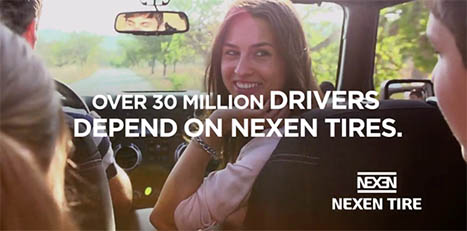 This billboard will be on display in Times Square to remind viewers about tire safety
NEW YORK CITY – April 24, 2018 – Global tire manufacturer Nexen Tire USA has aligned with the New York City Department of Transportation in the new "Vision Zero" driver safety campaign, launching today on a digital billboard in Times Square. The DoT campaign is aimed at educating New York drivers on safe driving and vehicle maintenance. A 15-second Nexen Tire spot, showing how 30 million drivers worldwide depend on Nexen tires to keep them safe on the road, will run immediately following the DoT Vision Zero spot.
"The New York City Department of Transportation is extremely passionate about driver and pedestrian safety, as evidenced by their Vision Zero campaign," said Kyle Roberts, senior director of marketing at Nexen Tire USA. "At Nexen, our priority has always been safety, from our track record of zero recalls to our 24/7 flat-tire roadside assistance warranty designed to keep drivers safe. Proper vehicle maintenance, tire rotation and tire inspections can prevent tragedies – and we are proud to be working in alignment with the Vision Zero campaign to help promote this very important message. Times Square is a vibrant tourist location where travelers from around the globe visit. Our aim is that these visitors take these important safety messages back to their own communities and apply them to their daily driving."
The Nexen Tire video will run on the Times Square billboard through December 31.