STREET-LEGAL RACING TIRE N'FERA SUR4G TO CONTINUE RIPPING ACROSS FORMULA DRIFT PRO 1 SERIES; NEXEN TIRE MOTORSPORTS ANNOUNCES 2018 TEAM DRIVERS
The Nexen Tire team will include championship racers Fredric Aasbo and Chris Forsberg, as well as prominent drivers including Alex Hohnadell and Jhonnattan Castro throughout the 2018 season
Nexen's N'Fera SUR4G tire – engineered for superior grip, handling and weather performance in the most demanding racing environments – will continue as co-tire for the series until 2020
The brand was also named "semi-exclusive" tire supplier for the Formula DRIFT Pro 2 Series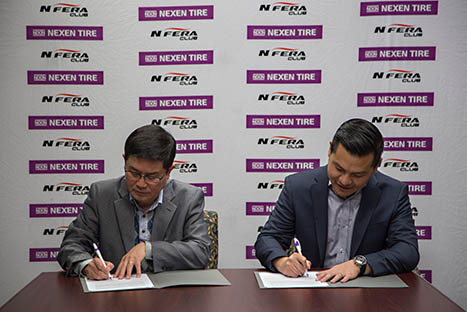 Nexen Tire America CEO Jong Sun Kim (L), who took over the reins on January 15 of this year, enters into a partnership with Formula DRIFT president and CEO Jim Liaw (R)
SAN DIMAS, Calif. February 22, 2018 — Nexen Tire Motorsports' championship-winning Formula DRIFT motorsports team announced it has renewed its partnership with the Formula DRIFT Pro Series 1 through 2019.
As a reflection of the brand's immense commitment to the sport, the news also reinforces the trust that top pro drivers have in Nexen's tires – which are meticulously engineered to bolster pro racing performance, complete with proprietary technology.
With the two-year co-tire sponsorship agreement, several Pro 1 Series championship drivers will race with the Nexen SUR4G tire for elevated grip, handling and challenging weather performance. The SUR4G will also serve as the semi-exclusive, preferred tire for the Formula DRIFT Pro 2 Series.
"We are excited to continue our relationship with Nexen Tire, who have been a proactive partner of Formula DRIFT and an active supporter of competition teams," said Jim Liaw, president and co-founder of Formula DRIFT. "Our relationship not only continues but expands as Nexen Tire becomes one of two exclusive tire suppliers of the Formula DRIFT Link ECU Pro2 Championship, the precursor to the Formula DRIFT Black Magic Pro Championship."
Nexen Tire Team Drivers For the 2018 Formula DRIFT Season:
Fredric Aasbo (Rockstar Energy Drink / Nexen Tire Toyota) – 2015 Champion and 2017 second overall driver
Chris Forsberg (NOS Energy Drink / Nexen Tire Nissan 370Z) – New Nexen team driver; Winner of three Formula DRIFT championships
Ryan Tuerck (Gumout / Nexen Tire Toyota 86) – Newly signed to the Nexen team; will co-star with Forsberg in "Blackout Show"
Alec Hohnadell (Rain X / Nexen Tire Nissan S14) – Formula DRIFT "Most Improved Driver" and professional stunt driver
Jhonnattan Castro (Gerdau-Metadom / Nexen Tire Toyota 86) – First Dominican driver to be granted a Formula DRIFT license
Dan Burkett (RAD Industries / Nexen Tire Toyota Supra) – Co-owner of popular race shop RAD Industries
Josh Robinson (Australian Ute) – First year in Pro 1
Kyle Mohan (Mazdatrix Mazda MX-5) – 15-year Formula DRIFT veteran; Co-owner of Kyle Mohan Racing
Additional Nexen team drivers will announced at a later date.
N'FERA SUR4G: PROPRIETARY TECHNOLOGY. EXTREME PERFORMANCE. ENGINEERED FOR CHAMPIONS.
Nexen launched the Extreme UHP N'Fera SUR4G tire in 2017, and the street-legal racing tire immediately took the motorsports industry by storm. Meticulously engineered for superior performance in Formula DRIFT, SCCA and time trials, the SUR4G delivers optimal grip and response, with minimal performance drop under extreme conditions. Last year, the N'Fera SUR4G team secured two wins and a podium finish, in addition to placing second in overall driver points and finishing second in the tire cup championship.
The 2018 Formula DRIFT season officially kicks off on April 6 with Round 1 of the series: Streets of Long Beach (Long Beach, Calif.).