THREE-TIME FORMULA DRIFT CHAMPION CHRIS FORSBERG AND RYAN TUERCK CHOOSE NEXEN N'FERA SUR4G TIRES FOR ELEVATED GRIP PERFORMANCE AND RESPONSE; NEW TEAM DRIVERS TO CREATE ELECTRIFYING FAN CONTENT
Formula Drift Stars Join the Nexen Tire USA Motorsports Team for the 2018 Season, Reflecting Immense Commitment to the Sport
Forsberg's Nissan 370Z and Tuerck's Toyota GT86 To Enjoy Superior Cornering/Response, Stability, Braking and Wet Condition Driving Advantages with Nexen Tires
Extreme UHP N'Fera SUR4G Tires Are Carefully Engineered for Optimal Formula Drift, SCCA and Time Trial Performance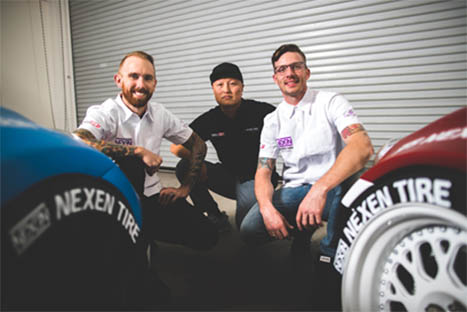 Drivers Forsberg (L) and Tuerck (R) with Nexen Senior Motorsports Manager Paul Jho
SAN DIMAS, Calif. February 9, 2018 — Three-time Formula Drift champion Chris Forsberg and professional drifter Ryan Tuerck have joined the Nexen Tire USA motorsports family for 2018 – with both star drivers set to benefit from superior grip, response and wet condition performance delivered by Nexen's Extreme UHP N'Fera SUR4G tires.
Forsberg's NOS Energy / Nexen Tire Nissan 370Z and Tuerck's Gumout / Nexen Tire Toyota GT86 will both contend for glory, utilizing Nexen Extreme UHP N'Fera SUR4G tires
Launched just last year, the N'Fera SUR4G has taken the motorsports world by storm. Meticulously engineered for superior performance in Formula Drift, SCCA and time trials, the SUR4G delivers optimal grip performance and response, with minimal performance drop under extreme conditions. Proprietary technology highlights:

Wide center ribs produce maximized vertical stiffness for enhanced high-speed forward driving stability. Three wide ribs in the center enable superior braking performance
Maximized diagonal block stiffness elevates handling performance during cornering
Two wide linear grooves and two diagonal grooves provide high drainage performance – optimizing driving performance on wet roads
CHRIS FORSBERG: NOS ENERGY / NEXTEN TIRE NISSAN 370Z
"Nexen has proven to be a force to be reckoned with as a top contender in Formula Drift. Their enthusiasm to create the absolute best product for the specific needs of their team drivers is the type of partnership that we look forward to having for years to come."
RYAN TUERCK: GUMOUT / NEXEN TIRE TOYOTA GT86
"Really stoked to be working with Nexen Tire this season. They have demonstrated that their tires deliver incredible performance in all conditions, and I can't wait to rip it up on the track starting on the streets of Long Beach for the first round of Formula Drift. We have a lot of fun projects in the works that we will be debuting soon."
PAUL JHO: SENIOR MOTORSPORTS MANAGER, NEXEN TIRE USA
"I'm very excited to welcome Chris and Ryan to the Nexen Tire family. With them both on our N'Fera SUR4G in competition, we look forward to the team bringing home wins throughout the season – as well as creating some amazing content for the fans. It's our team drivers that inspire us to engineer tires with technology that push the envelope on performance in every respect – and our addition of Chris and Ryan is truly reflective of our deep commitment to not only compete, but lead."
The 2018 Formula Drift season officially kicks off on April 6 with Round 1 of the series: Streets of Long Beach (Long Beach, Calif.).