DO YOU KNOW THE SCIENCE BEHIND "AIRING DOWN YOUR TIRES" FOR ROCK CRAWLING AND EXTREME OFF-ROAD TRAVEL?
Why Airing your Tires Down can Provide Incredible Traction and Climbing Ability, while Also Adding Years of Life to your Tires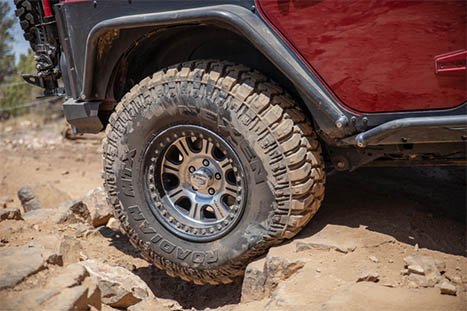 DIAMOND BAR, Calif. (July 31, 2018) — When it comes to rock crawling, extreme off-roading and navigating the snow during winter months, not all tires are created equally . As a leading high-performance tire manufacturer, America's fastest-growing performance tire brand, Nexen Tire America Inc., took its recent entrance into the hardcore off-road industry very seriously. Nexen brought together a group of America's most talented team of experienced engineers to design the incredibly tough, premium performance Roadian MTX Mud Terrain Xtreme tire. Although most off-road tires have dual sidewalls, Nexen carried the load-bearing tread pattern from the top of the tire over the side wall providing even strong gripping power. With an F-load rating on all flotation sizes and exceptional low air pressure performance, the Roadian MTX can be aired down to extremely low PSIs with reduced risk of rollover and the best part -- no bead lockers required.
Understanding the Art of Rock Crawling: Created for the adventurer who values accomplishment - and not necessarily speed - rock crawling is a fun sport that can be practiced with a Jeep, RAZR, ATV or another off-highway vehicle (OHV). No matter what vehicle is tackling the trail, or in this case, vertical rock crawling, drivers need to practice some basic tire performance and safety tips to get the most out of their tires that help prevent dangerous rollovers.
Know the vehicle. Each vehicle and its tires are different, so off roaders need to experiment with different pressures to find the "PSI sweet spot" for their rig. Air down as low as possible while still riding safely and comfortably. Drivers should also keep a log of the PSI for future adventures in similar terrain.
Lowest PSI is not necessarily the best PSI. There are diminishing returns to lowering air pressures past a comfortable point, including the risk of your tire slipping off the rim bead. Nexen's Roadian MTX tires help avoid this risk, and of course, using bead lock wheels can also help. Either way, drivers need to be careful when off roading on tires with extremely low air pressures. (Airing down below 11-15 PSI is not recommended unless you are a capable off-road expert and have consulted a tire installer.)
Go slow. While many find rock crawling a fun sport, it's definitely not a race. Crawling at extremely slow speeds, often with the help of a spotter, drivers sometimes go as slow as one or two miles per hour to navigate vertical rock formations while maintaining proper throttle control. Once over an obstacle, the thrill can be just as great as speeding down a deserted trail.
Use the buddy system. With tricky angles that can point a vehicle straight in the air, it can be difficult to see the terrain or the best path to take. An experienced spotter can help drivers safely cross dangerous terrain with ease.
Make sure the off-road vehicle is properly serviced. The middle of the desert is not a great place to remember that a vehicle needs serous maintenance.
Bring an air compressor or CO2 tank as well as the tire deflator. As mentioned earlier, proper air pressures are critical so off-roaders should experiment with different PSIs for rock crawling, sand dunes, deep snow or traveling on paved surfaces.
Don't forget to re-inflate before heading home! Driving on under-inflated tires on highway roads is seriously dangerous because it heats up the tires' sidewall causing damage and increasing the risk of a blowout or getting stranded on the side of the highway.
Why drive normally when you can drive…vertically?
"When designing the Roadian MTX, we wanted to offer a tire that was great not only for traditional off-roading activities, but that would also serve the rock crawling community," says Kyle Roberts, senior director of marketing at Nexen Tire America Inc. "This is trickier than it sounds, because an off-road tire needs to be able to handle any terrain thrown at it – from pavement to sand dunes and vertical rocks – at any level of inflation. Not many tires perform well "aired down," but from what I've been hearing from customers already, the Roadian MTX is definitely delivering."
Preferred by off-road enthusiasts, the Nexen Roadian MTX features distinctively designed dual sidewalls - Beast and Machine - giving the customer the freedom to choose the look that best represents their lifestyle and vehicle. The Roadian MTX also boasts 3-ply sidewall protection for better stability and durability, burly lugs for maximum grip and aggressive traction, patented block positions to reduce tire noise when transitioning from rocks to mud to the street and an F Load on all flotation sizes. The Roadian MTX is available in 35 sizes ranging from to 265X75R16 to 37X13.50R22.