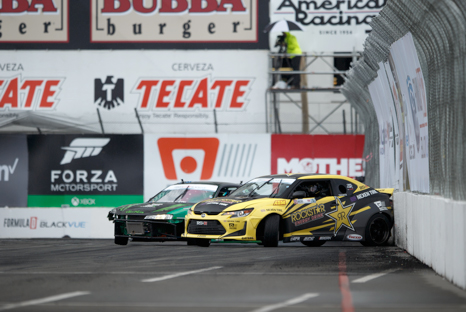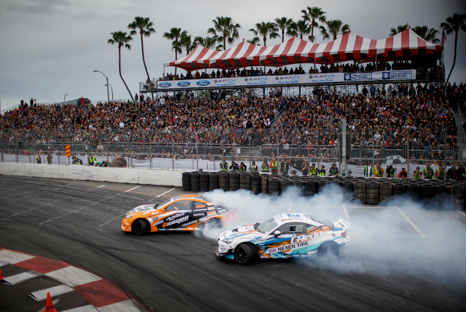 Diamond Bar, Calif. – April 10, 2016 –

Formula DRIFT presented by BlackVue returned to Long Beach for the kickoff event of the 2016 Pro Championship season. Fredric Aasbo with Rockstar Energy, Nexen Tire and SR by Toyota tC; and Ken Gushi with Greddy Performance, Nexen Tire and SR by Toyota 86, took the podium putting Nexen Tire in the lead for the 2016 Tire Championship.
Nexen Tire showcased a new activation area with a mobile marketing trailer to host a hospitality event for dealers. Nexen also partnered with SR by Toyota on a VIP hospitality suite, giving their guests the best seats at the event. Nexen saw great results for round 1 with Fredric Aasbo finishing 2nd and Ken Gushi in 3rd. This put both Nexen Tire and SR by
Toyota in the lead for the Manufacture and Tire Championship. Fredric Aasbo, Ken Gushi, Jhonnattan Castro, and Alec Hohnadell drove their best to help put Nexen Tire in lead, said Paul Jho, Motorsport Sr. Manager, the drivers really demonstrated what our new NFera SUR4 can do in both dry and wet conditions.
Nexens N'Fera SUR4 is designed for an ultra-performance street and racing tire, with performance superior to the competition, especially in high-speed driving stability and cornering, grip, and anti-abrasion performance. The results of the Long Beach competition prove the quality and performance of this tire.
The 2016 Formula DRIFT Pro Championship will continue to Round 2: Road to the Championship on May 6-7 at Road Atlanta. For more information visit: www.formuladrift.com and find Formula DRIFT on Instagram, Facebook and Twitter. Tune into Formula DRIFT on CBS Sports and check your local listings for airtimes. You can also follow NexenTireUSA on Instagram, Facebook and Twitter for unique updates on the drivers, events and models.