NEXEN TIRE MOTORSPORTS WINS OVERALL PRO 2 CHAMPIONSHIP COMPETITION, EARNS SIX PODIUM FINISHES IN PRO 1 CHAMPIONSHIP STANDINGS LEADING UP TO ROUND 8: 'TITLE FIGHT' AMID 2019 FORMULA DRIFT SEASON CONCLUSION
Nexen Tire Motorsports driver Trent Beechum — driver of the Beechum Racing Nexen Tire Ford Mustang — earns first-place podium finish during final round of Pro 2 Championship; wins title for 2019 season
Formula DRIFT Champion Fredric Aasbo currently just 19 points shy of overall Pro 1 Championship points lead entering Round 8: 'Title Fight'
Nexen Tire Motorsports drivers continue to remain dominant, earning multiple podium finishes throughout season thanks to Nexen N'Fera SUR4G street-legal tires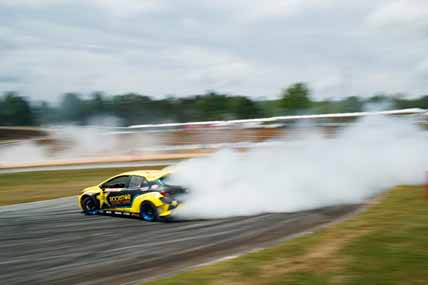 DIAMOND BAR, Calif., (Oct. 18, 2019) — Nexen Tire Motorsports, powerhouse global manufacturer of Formula DRIFT Pro 1 Series co-sponsored N'Fera SUR4G street-legal tires, continues its drift dominance by earning six podium finishes this season as it enters the 2019 Formula DRIFT conclusion – Round 8: 'Title Fight' in Irwindale Oct. 18-19. Last month, Nexen Tire Motorsports' driver Trent Beechum who pilots the Beechum Racing Nexen Tire Ford Mustang, earned a first-place podium finish and took home the Pro 2 Championship title during Round 7 in Dallas. Fellow Nexen Tire Motorsports teammate Garret Denton took home third with Josh Robinson placing fourth and Donovan Brockway placing tenth in overall standings. In the Pro 1 Championship series, Fredric Aasbo, most-winning driver in the series and driver of the Rockstar Energy / Nexen Tire Toyota Corolla Hatchback, has set out to win the championship title this year. Currently, Aasbo is trailing just 19 points behind long-time rival James Deane.
During Round 7, Aasbo was involved in a crash during competition and was not able to finish the round. Fortunately, Nexen Tire Motorsports driver and Formula DRIFT Champion Chris Forsberg, driver of the NOS Energy Drink / Nexen Tire Nissan 370Z, stepped up to the plate and climbed his way through the competition bracket, earning a third-place podium finish. Aasbo entered Round 7 clinging to a one-point lead over Deane after recording a solid second-place finish in Round 6 in St. Louis.
Currently, Nexen Tire Motorsports has earned six podium finishes this season and three drivers stand in the top ten for Pro 1 Championship:
Round 1: 'Streets of Long Beach' – Forsberg, third-place finish
Round 2: 'Scorched' – Forsberg, second-place finish
Round 3: 'Road to the Championship' – Aasbo, first-place finish
Round 4: 'The Gauntlet' – Aasbo, second-place finish
Round 6: 'Crossroads' – Aasbo, second-place finish
Round 7: 'Championship' – Forsberg, third-place finish
2019 Nexen Tire Motorsports Pro 1 Drivers include:
Fredric Aasbo (Rockstar Energy / Nexen Tire Toyota Corolla hatchback)
Chris Forsberg (NOS Energy Drink / Nexen Tire Nissan 370Z)
Alec Hohnadell (Nexen Tire Nissan S14)
Jhonnattan Castro (Gerdau Metaldom / Nexen Tire Toyota 86)
Dan Burkett (RAD Industries / Nexen Tire Toyota Supra)
Federico Sceriffo (FFF Drifting Department / Nexen Tire Ferrari 599)
Kyle Mohan (Kyle Mohan Racing / Nexen Tire Mazda RX8)
Ryan Litteral (Koruworks / Nexen Tire Nissan 350Z)
Austin Meeks (Verocious Motorsports / Nexen Tire Cadillac ATS/V)
Jeff Jones (Drink Doc / Nexen Tire Nissan 370z)
2019 Nexen Tire Motorsports Pro 2 Drivers include:
Trent Beechum
Josh Robinson
Garrett Denton
Ola Jaegar
Troy Manners
Rob Carlsen
Donovan Brockway
Derek Madison
Dalton Gernhart
Andrew Schulte
Karolina Pilarczyk
Shaun Doom
Nexen Tire Motorsports' continued success is attributed to Nexen Tire's extreme ultra high-performance N'Fera SUR4G street-legal tire. The SUR4G is comprised of patented championship-winning technology that provides unmatched superior grip and handling, thanks to its meticulous engineering. The SUR4G excels in Formula DRIFT, SCCA and time trials, and serves as the semi-exclusive preferred tire for the Formula DRIFT Pro 2 Series.
"We are extremely proud of all the Nexen Tire Motorsports drivers this year. We want to congratulate Trent Beechum on his Pro 2 Championship win, and we are very excited to see him advance to Pro 1 Championship next year," said Paul Jho, motorsports senior manager at Nexen Tire America Inc. "Fredric Aasbo has done a fantastic job so far this year with multiple podium finishes. Even though he suffered a setback in Round 7, we are confident he will be bringing his best to Irwindale for the final round. Everyone at Nexen Tire is looking forward to exciting final round."
For all media inquiries, please contact media@nexentireusa.com.
About Nexen Tire:
Inspired by Nexen's global family of drivers to engineer superior performing tires – from championship-winning Formula DRIFT drivers, rock-climbing off-road enthusiasts to everyday commuters – Nexen Tire utilizes proprietary technology and the highest quality standards in the industry to guarantee world-class products backed by unrivaled customer support for the life of each tire. As a worldwide leader in high-performance, passenger, SUV / light truck and winter offerings, the company is second-to-none in research, development and state-of-the-art manufacturing. And as part of a select group of tire manufacturers worldwide that are specified as standard fitment on original equipment vehicles, Nexen delivers premium products at a sensible price.
Find out more about how Nexen Tire has your back:
#NexenHero #NexenTire #WeGotYou #NexenRacing