NEXEN HERO 2019 JEEP WRANGLER UNLIMITED RUBICON GOES ON DISPLAY AT 2019 SEMA SHOW – VEHICLE TO BE PRESENTED TO A U.S. MILITARY VETERAN IN DECEMBER
Third Nexen Hero program – open to all honorably discharged U.S. military veterans – makes a stop in Las Vegas during the 2019 SEMA Show to give fans an up-close look at the Nexen Hero Jeep Wrangler sporting 37-inch Nexen Roadian MTX Xtreme off-road tires
Famed Jeep builder All J Products in Big Bear Lake, Calif., leveraged more than 40 years of experience to build the Nexen Hero Jeep Wrangler Rubicon using aftermarket off-road automotive parts from Rugged Ridge
Nexen Tire will match up to $30,000 in donations made to the Purple Heart Foundation during the campaign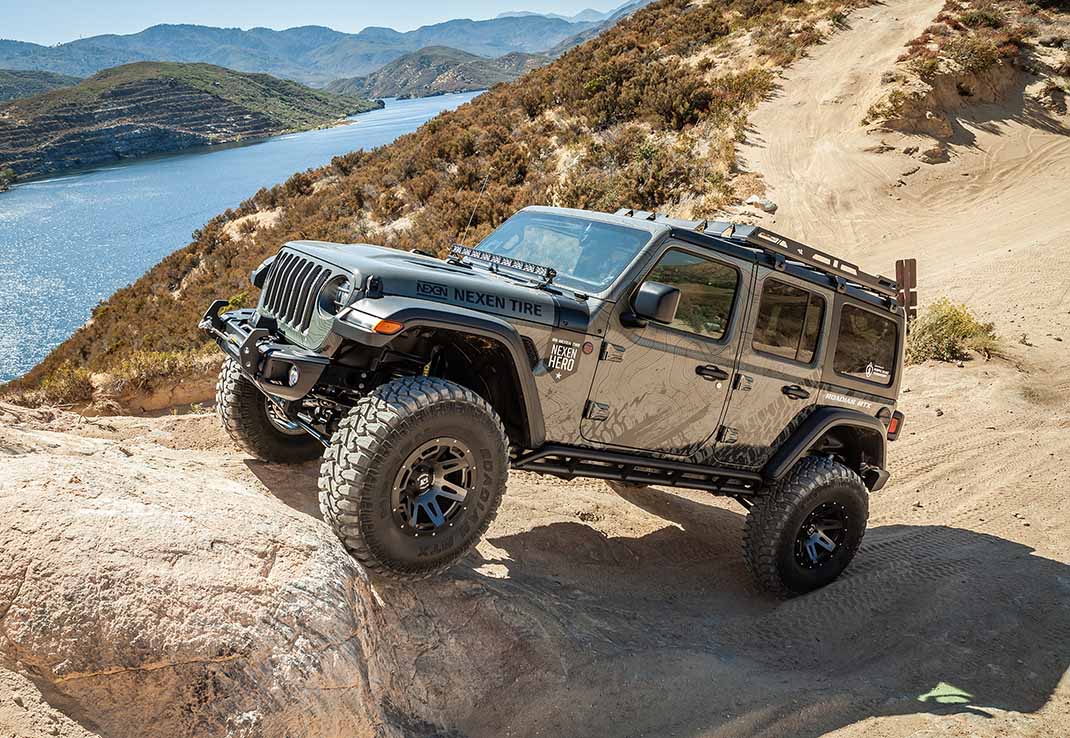 DIAMOND BAR, Calif., (Nov. 4, 2019) — Nexen Tire America, Inc. a worldwide leader in high-performance, passenger, SUV / light truck and winter tires, has brought the Nexen Hero Jeep Wrangler Unlimited Rubicon to the 2019 SEMA Show to highlight the build details of the off-road ready rig which will be given away to a well-deserving U.S. military veteran during the week of Dec. 16 as part of the Nexen Hero III program. The Nexen Hero Jeep Wrangler Rubicon, in Booth #61012 was customized by renowned Jeep builder All J Products in Big Bear Lake. The build features a complete makeover thanks to aftermarket Jeep components from Rugged Ridge and Nexen's top-of-the-line 37-inch Roadian MTX Xtreme Mud Terrain off-road tires which solidify its off-road prowess.
The third campaign, which runs until Dec. 3, continues to help fulfill Nexen Tire's mission of bringing national awareness to our U.S. military veterans by sharing their stories of courage and sacrifice. Nexen Tire has also committed to match up to $30,000 in donations made to The Purple Heart Foundation through the wwww.NexenTireUSA.com/NexenHero webpage during the giveaway period. Donations made during the giveaway period will benefit the National Service Officer Program — an organization which serves thousands of veterans nationwide. Last year, the program helped nearly 12,000 veterans file medical claims worth nearly $200 million in lifetime medical benefits. Nexen Tire invites veterans from all branches of the U.S. armed forces to enter for a chance to receive the Nexen Hero Jeep Wrangler Rubicon.
For the previous Nexen Hero campaign, Nexen Tire honored retired Army Master Sgt. Brian Porter as the recipient of the Nexen Hero Jeep Gladiator on Aug. 7 – National Purple Heart Day. Porter was the second Purple Heart Medal Recipient to receive a customized vehicle equipped with Nexen tires. The program's first campaign titled 'American Muscle for American Heroes' presented retired Marine Cpl. Steven Diaz with the Nexen Hero Purple Heart Dodge Challenger R/T. Both vehicles featured handpicked tire selections from Nexen Tire's current product lineup.
For the Rubicon, Nexen Tire selected All J Products as the exclusive build partner for its reputation in the Jeep community, along with their passion for supporting the U.S. military, which made them a perfect fit for Nexen Tire's mission. The Nexen Hero Jeep Wrangler Rubicon features some of the most sought-after Jeep components from Rugged Ridge, as well as one-of-a-kind Nexen Tire graphics which help differentiate the Nexen Hero Jeep Wrangler Rubicon from every other Jeep in the nation.
The complete build list of Rugged Ridge components used on the Nexen Hero Jeep Wrangler Rubicon includes:
Arcus Front Stubby Bumper
HD Series Rear Bumper
RRC Rocker Guard Kit
Front- and Rear-Fenders, Fender Chop Bracket Kit with integrated Daytime Running Lights
XHD 17x9.5-inch wheels finished in Gun Metal Silver
Low-Profile Roof Rack with integrated cargo basket
12,500-pound Trekker Winch featuring a wireless remote, waterproof design
Fortis Front- and Rear-Tube Doors
Cowl Light-Bar Bracket, Havoc Off-Road Black-Out Series 40-Inch LED Light Bar
Spartacus HD Tire Mount Hinge Casting
Spartacus HD Tire Mount Wheel Carrier
LED Third Brake Light Ring
Modular XHD Low-Mount Snorkel System
Elite Headlight Guards
"Nexen Tire is committed now more than ever to helping bring national awareness to the sacrifices made by U.S. military veterans and their families and it was an honor to have the opportunity to highlight this vehicle at the biggest automotive aftermarket show in the world," said John Hagan, executive vice president of sales for Nexen Tire America Inc. "For this year, building an incredible vehicle featuring Nexen tires for a well-deserving veteran wasn't enough. Nexen Tire is raising the bar by matching donations made at NexenTireUSA.com/NexenHero so we can continue to give back to those who deserve it. Donate today to make a difference in a veteran's life and help support our mission of serving those who served our country."
The nomination period runs until Dec. 3 and the recipient will be announced live on national TV during the week of Dec. 16. To be eligible, nominees must be honorably discharged veterans from the U.S. armed services, subject to verification by the nominees' DD-214 form and be willing to consent to a background check. The Nexen Hero Jeep Wrangler Rubicon recipient will be selected by Nexen Tire America, Inc. representatives in collaboration with the Purple Heart Foundation based on a variety of factors, including their overall military service and ongoing commitment to their community.
To nominate a veteran, make a donation to the Purple Heart Foundation and for official giveaway rules, please visit http://www.nexentireusa.com/ne....
For more information on the Purple Heart Foundation, visit https://purpleheartfoundation.....
For all media inquiries, please contact media@nexentireusa.com.
About Purple Heart Foundation:
The Purple Heart Foundation is a 501(c)3 Veteran Service Organization that fundraises for programs, services and resources that benefit veterans and their families. Over the past 60 years, the Purple Heart Foundation has funded academic scholarships, the MOPH National Service Officer program, research efforts and resources regarding veteran issues such as Post-Traumatic Stress and Traumatic Brain Injury, grants for service dogs, and much more. The Purple Heart Foundation's Mission is to holistically enhance the quality of life of all veterans and their families, providing them with direct service and fostering an environment of camaraderie and goodwill among combat wounded veterans.
About Nexen Tire:
Inspired by Nexen's global family of drivers to engineer superior performing tires – from championship-winning Formula DRIFT drivers, rock-climbing off-road enthusiasts to everyday commuters – Nexen Tire utilizes proprietary technology and the highest quality standards in the industry to guarantee world-class products backed by unrivaled customer support for the life of each tire. As a worldwide leader in high-performance, passenger, SUV / light truck and winter offerings, the company is second-to-none in research, development and state-of-the-art manufacturing. And as part of a select group of tire manufacturers worldwide that are specified as standard fitment on original equipment vehicles, Nexen delivers premium products at a sensible price.
Find out more about how Nexen Tire has your back:
#NexenHero #NexenTire #WeGotYou #NexenRacing
Or Contact: