NEXEN HERO JEEP WRANGLER RECIPIENT, RETIRED ARMY SERGEANT FIRST CLASS KEN CATES, RECEIVES OUTPOURING OF SUPPORT AMID RETURNING HOME
Iraq War Veteran and CEO of Fort Hood Area Habitat for Humanity Using Nexen Hero Jeep Wrangler to Continue Supporting Veterans in his Local Community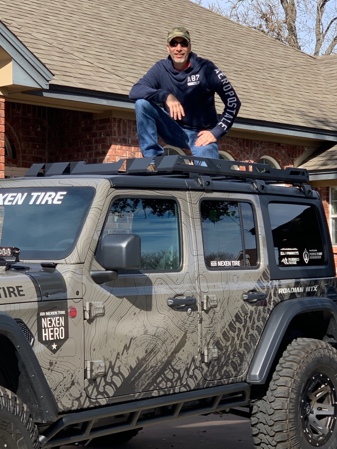 DIAMOND BAR, Calif., (Mar. 6, 2020) — Although retired Army Sgt. 1st Class and CEO of Fort Hood Area Habitat for Humanity, Ken Cates, has received numerous medals throughout his career, being named the recipient of the Nexen Hero Jeep Wrangler came as a surprise. Cates received a custom 2019 Jeep Wrangler Rubicon from Nexen Tire America, Inc. on national TV last month as part of the Nexen Hero 3 Campaign. More than 5,000 veterans were nominated to receive the Jeep, an initiative by Nexen Tire and the Purple Heart Foundation. This is Nexen's third installment of the program, which continues its ongoing commitment to honoring veterans across the nation by giving back to those who have served. During the campaign, Nexen Tire matched all individual donations made to the Purple Heart Foundation and together, raised a grand total of $62,143.46. These donations will be used to help veterans receive better access to various benefits like educational scholarships, medical claims and more.
Cates began his military career in the Army Reserves at age 18 and enlisted in the Coast Guard shortly after. He was a shipboard and land-based electronics technician and served just over four years before joining the Army on active duty and serving for another 22 years. From the moment he joined the service, Cates made a commitment to set an example for exceptional leadership, just as his father Jay Cates, a retired Coast Gardsman did before him. Cates was deployed during the Iraq War and received numerous medals for service including the Bronze Star Medal, Army Commendation Medals, Army Achievement Medals and the Humanitarian Service Medal. Cates retired from the Army in August of 2015 and served 26 years combined service.
Among many of his positive attributes, his ongoing commitment to his community really stood out during the Nexen Hero selection process. Following his retirement, Cates is now the CEO of the Fort Hood Area Habitat for Humanity serving three counties in the greater Killeen/Temple, Texas, area. As its CEO, Cates has enabled the organization to triple the amount of homes it completes each year and has completed nine other unique projects centering around repairs and community revitalization. His leadership has positively impacted 150 families combined. Through his vision for the organization, he's led the group to a new milestone by completing 26 homes for the veteran community and impacting more than 30 families. These homes were built exclusively for homeless- and disabled-veterans. Prior to that, he led more than 48 individual projects for the group last year.
Cates has been a guest on local TV in the past but said being on national news was quite humbling for him.
"Being on national TV was something new for me, but not unfamiliar. The military prepares you to treat everyone with respect, no matter what their title is," Cates said.
"In some of my leadership positions, I've briefed many four-star generals and senior congressmen, and the military has taught me that everyone is human."
Cates said accepting the Nexen Hero Jeep live on national news meant he was there to represent all the other veterans who were initially nominated for the vehicle.
"There are veterans out there doing so much for our communities nationwide, and it's my duty to represent them," he explained.
"I was extremely humbled when I learned how many other nominees there were. Any one of those nominees could have been in my position. For that reason, I've made it my mission to represent those other 5,000 veterans with this vehicle, and I'm honored to do so."
Cates said the Jeep has given him the opportunity to talk about Nexen Tire and the Purple Heart Foundation, and explain what they've done for him, and what they're doing for veterans like himself.
"We've all nicknamed the Jeep 'Beast' since taking it home," Cates shared.
"People even recognized me since seeing the Jeep on TV. They ask me how I was selected, what the program is about, and they thank me for my service."
Since being on national TV and taking ownership of the Jeep, Cates said he's not only rekindled old relationships from the past; he's even made some new ones along the way. He's received numerous messages on his social media accounts from current- and retired-soldiers that he's known for years, and even mentioned some of the nominees have reached out to congratulate him.
"Sgt. 1st Class Cates is a great example of what makes a Nexen Hero and we are honored to hear about the recognition he's receiving since accepting the Jeep," said John Hagan, executive vice president of sales for Nexen Tire America, Inc.
"His ongoing commitment to his community is something that strongly resonates with us, and it's one of many reasons why we selected him as the vehicle recipient for this program. We're proud to have him represent the Nexen Tire brand."
As the weather begins to warm up, Cates plans to take "Beast" off-roading as soon as possible. Although he lives in Central Texas, which is known for its drier climate, he is excited to take the Jeep mudding as well.
"Out of all seven of my children, my youngest daughter is begging to make sure she's the one in the front seat when we go off-roading. Many of the young soldiers I helped mentor throughout my career have messaged me on social media to take the Jeep on fishing trips to Corpus Christi, so you can bet this Jeep will see plenty of use."
For official giveaway rules, please visit http://www.nexentireusa.com/ne....
For more information on the Purple Heart Foundation, visit https://purpleheartfoundation.....
For all media inquiries, please contact media@nexentireusa.com.
About Purple Heart Foundation:
The Purple Heart Foundation is a 501(c)3 Veteran Service Organization that fundraises for programs, services and resources that benefit veterans and their families. Over the past 60 years, the Purple Heart Foundation has funded academic scholarships, the MOPH National Service Officer program, research efforts and resources regarding veteran issues such as Post-Traumatic Stress and Traumatic Brain Injury, grants for service dogs, and much more. The Purple Heart Foundation's Mission is to holistically enhance the quality of life of all veterans and their families, providing them with direct service and fostering an environment of camaraderie and goodwill among combat wounded veterans.
About Nexen Tire:
Inspired by Nexen's global family of drivers to engineer superior performing tires – from championship-winning Formula DRIFT drivers, rock-climbing off-road enthusiasts to everyday commuters – Nexen Tire utilizes proprietary technology and the highest quality standards in the industry to guarantee world-class products backed by unrivaled customer support for the life of each tire. As a worldwide leader in high-performance, passenger, SUV / light truck and winter offerings, the company is second-to-none in research, development and state-of-the-art manufacturing. And as part of a select group of tire manufacturers worldwide that are specified as standard fitment on original equipment vehicles, Nexen delivers premium products at a sensible price.
Find out more about how Nexen Tire has your back:
#NexenHero #NexenTire #WeGotYou #NexenRacing
Or Contact:
###