Nexen Tire Extends Next Level Promotion to Q3 Showing Continued Support to Dealer Network
-- Highly Successful Program Reduces Tier 1 Unit Goal from 100 to 70 – Gives Dealers More Ways to Earn Double Payouts –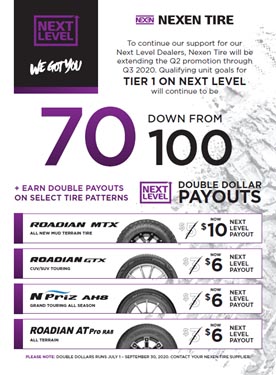 DIAMOND BAR, Calif. (June 29, 2020) – Nexen Tire America, a worldwide leader in high-performance, passenger, SUV/light truck and winter tire technology, today announced the extension of its Q2 Nexen Next Level promotion to Q3, making it easier for dealers to earn valuable rewards for each tire purchase. For Q3, which runs between July 1 and Sept. 30, Nexen Tire dealers will start earning rewards after purchasing just 70 tires, instead of 100. In addition to lowering Tier 1 purchase requirements, Nexen Tire is offering Double Dollar payouts for select tires throughout the quarter.
Roadian MTX – Now $10
Roadian GTX – Now $6
Roadian NPriz AH8 - Now $6
Roadian AT Pro RA8 – Now $6
The Nexen Next Level Program makes it easy for dealers to earn rewards when buying Nexen tires. Instead of other programs that require volume forecasts or purchasing commitments, the Next Level Program pays dealers the same base cash back as long as they meet the newly promotional minimum tier requirements for Q3. The Next Level program also offers a quarterly volume bonus as well as an annual true up which provides additional rewards for dealers.
Nexen Tire's Next Level Program is yet another example of the company's commitment to providing high-quality products, customer service and sales support to its dealer network.
Nexen Tire is always looking to add new partners to its growing dealer network. To become a Nexen Tire dealer, visit www.nexentirenextlevel.com or call (909) 923-4011.
For more information about this announcement or to schedule an interview with a Nexen Tire executive, please contact media@nexentireusa.com or call (310) 374-6177.
About Nexen Tire:
Inspired by Nexen's global family of drivers to engineer superior performing tires – from championship-winning Formula DRIFT drivers, rock-climbing off-road enthusiasts to everyday commuters – Nexen Tire utilizes proprietary technology and the highest quality standards in the industry to guarantee world-class products backed by unrivaled customer support for the life of each tire. As a worldwide leader in high-performance, passenger, SUV / light truck and winter offerings, the company is second-to-none in research, development and state-of-the-art manufacturing. And as part of a select group of tire manufacturers worldwide that are specified as standard fitment on original equipment vehicles, Nexen delivers premium products at a sensible price.
Find out more about how Nexen Tire has your back:
#NexenHero #NexenTire #WeGotYou #NexenRacing