PLANNING A SUMMER ROAD TRIP? NEXEN TIRE SHARES IMPORTANT TIRE TIPS TO HELP KEEP DRIVERS SAFE ON THE ROAD
-- National Tire Safety Month in June Reminds Drivers to Inspect and Replace Tires to Ensure Safe Summer Road Trips –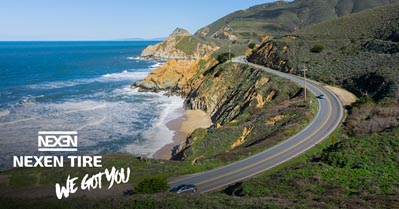 DIAMOND BAR, Calif., (June 2, 2020) — As the nation slowly begins getting back to normal, drivers are expected to hit the road again in record numbers. This summer, an estimated 25M Americans will embark on road trips and family vacations, and with that many drivers back on the road in such a short period of time, Nexen Tire is encouraging safe road trips with a friendly reminder of the importance of proper tire maintenance. All Nexen tires have several important features, but the company believes the most important feature is a tire's ability to safely get someone to their destination and to do that, tires need to be checked thoroughly before hitting the road. Drivers should always plan accordingly by ensuring their tires are road-trip ready before hitting the road, because things like road hazards, blowouts, flats and slow leaks can quickly ruin vacation plans. To prevent these types of issues, Nexen Tire recommends drivers do a thorough tire inspection to ensure proper inflation and they are ready for the challenge of a summer road trip.
With June as National Tire Safety Month, Nexen Tire has compiled a comprehensive list of tire tips to help drivers have a safe road trip this summer.
Tire Pressure – Properly inflated tires are the first step in maintaining tires for safety and longevity. Proper inflation affects tire safety, durability and fuel efficiency. According to the National Highway Traffic Safety Administration (NHTSA), it is recommended drivers check the air pressure in their tires at least once per month when the tires are "cold" (this means when the vehicle hasn't been driven for more than three hours). Ensure each tire is properly inflated to the vehicle's recommended cold tire pressure, which is found in the vehicle's owner's manual and often on a label inside the driver's door jamb. Everyone is also recommended to check the air pressure and condition of the spare tire.
Visual Inspection – Some tire issues can be prevented through a simple visual inspection. Not only should drivers check for visual defects on their tires, but also check the amount of tread left on the tire. One way to determine how much tread is left is by looking at built-in "treadwear indicators." These are raised sections that run in-between the tire's tread and when the tread is worn down to the same height as the treadwear indicator, it's time for new tires. Drivers can also use the "penny trick" by placing a penny in the tread with Lincoln's head upside down and facing you. If you can spot the top of Lincoln's head, it is recommended you replace your tires.
Balance, Alignment and Rotation – To reduce irregular wear, help tires last longer and maximize their fuel-efficient properties, drivers should rotate their tires every 5,000 to 8,000 miles (or even sooner if showing signs of uneven wear). While many standard vehicles use four of the same size tires, certain performance vehicles have different tire- and rim-sizes on the front and rear, preventing tires from being rotated. This information can be found in the vehicle's owner's manual or at a local tire dealer. To help prevent uneven wear, drivers should have tires balanced and the vehicle's alignment checked by a qualified technician to maximize the life of the tires. If a tire is not balanced, the vehicle can become susceptible to shaking or vibrating, which causes handling issues, uneven tire wear and potential blowouts. Tire alignment maximizes the life of the tire by properly placing the tire at the correct angle on the road.
Tire Age – Did you know tires degrade over time? Tire age is easily one of the most overlooked issues when it comes to tire maintenance. As tires age, their rubber construction and other important safety features decrease, and this can be accelerated due to storage or environmental conditions. These factors can increase chances of a tire failure, increasing their risk of crash if not identified and replaced. Most vehicles are driven enough to replace their tires on a regular basis, however, some vehicles like RVs, large passenger-vans, collector cars and trailers could be at risk. Moreover, infrequent use, constant exposure to sunlight and poor storage can rapidly increase tire aging. Visual inspections for signs of cracking or "dry rot" almost always warrants the replacement of tires. Lastly, drivers should ensure their tires are not too old by checking the manufacture date on the sidewall of tire. It is recommended tires be replaced no more than five years from this date.
For those drivers who learn they do need new tires, Nexen Tire has a full lineup of high-performance, passenger, CUV/SUV / light truck and winter tires designed to meet everyone's needs, regardless of the season. To simplify the tire buying experience, Nexen Tire's online Tire Finder tool helps drivers find the right tires for their vehicle. Vehicle owners can search for different tire options by simply entering the year, make, model and style of their vehicle, and the results generated are based on OEM specifications. Additionally, vehicle owners can narrow down these results to find specific tires with key features important to them, like better braking, longer wear life, fuel efficiency and more.
Nexen also offers an industry-leading warranty on many of its tires. The Nexen Total Coverage Warranty features a handful exclusive of benefits such as a Treadwear Mileage Warranty, One-Year Limited Road Hazard Warranty and a 36-Month 24/7 Roadside Assistance program. In addition, Nexen offers a 45-day Satisfaction Guarantee Trial allowing customers to try some tires for a period of 45-days or 500-miles (whichever comes first) with a money back guarantee. With an impeccable record featuring zero recalls since being in business, it's hard not to choose Nexen for your next set of tires!
"Tire safety is one of our highest priorities as a company, and we want to ensure nobody has their vacation or road trip interrupted by an unexpected tire issue," said John Hagan, executive vice president of sales for Nexen Tire America, Inc. "With millions of drivers hitting the road this summer, we want to make sure Nexen Tire customers enjoy an unmatched tire shopping experience with the confidence they are getting some of the safest, highest-performing tires on the market. We want our customers to know we have their back!"
Nexen Tire dealers are open and providing their customers with the same world-class tire service they've come to expect over the years. Additionally, all Nexen Tire's distribution facilities are well stocked and operating as normal so road trip drivers can hit the road with the confidence that Nexen Tire stands ready to provide mileage warranty support and roadside assistance.
To find the closest Nexen Tire Dealer, please visit the company's online Dealer Finder.
For more information, please contact media@nexentireusa.com or call (310) 374-6177.
Find out more about how Nexen Tire has your back:
#NexenHero #NexenTire #WeGotYou #NexenRacing
Or Contact: