Nexen Tire Supplies OE Tires for Porsche Macan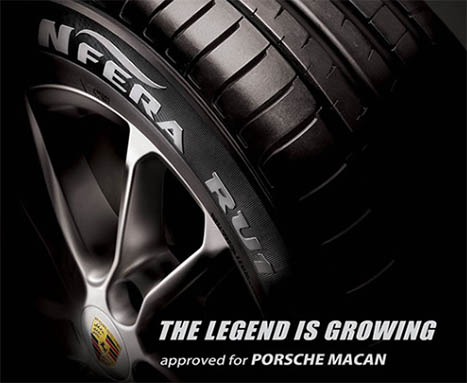 Nexen Tire has begun supplying original equipment (OE) tires for Porsche's luxury compact SUV, Macan, in sizes 235/55R19 and 255/50R19. The selected tire is the N'FERA RU1, which is the same tire already fitted on Porsche's luxury SUV Cayenne.
The N'FERA RU1 has unparalleled cornering stability and sports handling for high-speed driving, and is equipped with 3D-Nano Grip Technology, which maximizes braking capabilities at high speeds. The N'FERA RU1 has won nine design awards in Europe, America and Asia, including the 2017 Red Dot Design Award and Japan's Good Design Award, further establishing Nexen's design capabilities. '
"We are thrilled to be supplying original equipment tires for Porsche, which boasts world-class design and quality," said Travis Kang, CEO Nexen Tire. "We will continually strive to improve Nexen Tire's product quality and technology as well as to expand our OE supply to more global carmakers."
Nexen Tire currently supplies OE tires to more than 20 global carmakers in North and South America, Asia and Europe.